Chicago — Every basketball player has his own routine at the free-throw line. Sherron Collins' is just more meaningful than most.
Collins has a tattoo on his forearm that says, "R.I.P. Sherron Jr.," in memory of his son who lived just 10 days after being born four months premature in June.
"Before every free throw, I look at him before I shoot," Collins said from the United Center locker room Thursday.
Collins starred in football, basketball and baseball at Crane Tech in Chicago. He grew up in a gang-torn neighborhood.
"It was kind of crazy a little bit," Collins said of his surroundings. "People in the neighborhood, they didn't know my name. They just knew me as the little boy who could play basketball real good. Me and my brothers, both brothers, were good players when we were little. They respected us, and they knew what we were trying to do. They knew we were into sports, and we weren't into trouble. That was the good thing about it. They respected what we were doing, and we didn't get involved in any of that."
-->
College basketball provides many with a means to a better life and to an education they otherwise wouldn't be able to afford. If not for athletics, where would Collins be?
"My mother wouldn't let me get in trouble," Collins said. "I don't know what I would be doing, but I wouldn't be doing anything negative."
Collins thought for a minute about what might have been.
"I know I would have seen him today, being back in town," Collins said of Sherron Jr., who died of a lung infection. "I'm not going to let it get me down. Things have got to go on, but I miss him a lot."
¢ Niagara freshman guard Tyrone Lewis, like Collins, is a former football star who came from a tough neighborhood. He grew up in Levittown, Pa., just outside of Philadelphia.
Lewis was senior-class president, but was unable to attend his high school graduation because parents of other children feared their children might get caught in the crossfire of death threats sent Lewis' way. His speech was piped into the graduation ceremony via video feed.
Lewis' sister, the get-away driver in a gang shooting, had her sentence lightened in exchange for testifying against rival gang members, and Lewis became a target.
¢ Kevin Kruger, UNLV coach Lon's son, followed his father from Arizona State and starts at point guard for the Runnin' Rebels. He was named MVP of the Mountain West Conference tournament: "I don't think the team worries about me telling on them. It is nice to have that close relationship with coach. I knew coming in that this team wasn't going to be crying about me coming in. They knew I was coming in to try to win games, and no one was opposed to that. As far as them worrying about me being a snitch, I don't know. You would probably have to ask them."
¢ News flash: Chicago is colder than Las Vegas.
Photo Gallery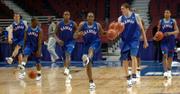 Jayhawks practice for Niagara
"It's very cold and windy," UNLV's Wendall White said. "I wasn't expecting anything like that. Coming from Las Vegas, it was pretty warm. Stepping out of the plane, they told us to be careful because it is pretty windy, and you might fall down. That was pretty incredible right there."
¢ Favorite opening remark repeated by almost all the coaches to take the podium: "We're excited to be here."
Really? You wouldn't rather be home watching or practicing for your next NIT game?
Copyright 2018 The Lawrence Journal-World. All rights reserved. This material may not be published, broadcast, rewritten or redistributed. We strive to uphold our values for every story published.