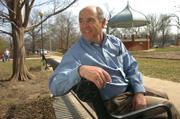 Some people like to take a walk to relieve a little stress. For Fred DeVictor, though, seeing someone else do the walking often lowered his tensions.
Especially if that person was walking in a Lawrence park.
DeVictor has seen that scene plenty of times during the past 32 years as director of the Lawrence Parks and Recreation Department.
"Just standing here in a park, seeing people playing or walking with their kids, is a great part of the job," DeVictor said. "When the staff starts to get stressed , I just tell them to get out and look. I tell them to see the quality of life they are providing people here."
Soon the staff won't have DeVictor to remind them. DeVictor, 64, is retiring Friday after a 37-year career with the department.
"It seems like the whole time has gone by in about five years," he said.
An exciting place
DeVictor came to Lawrence from Worster, Ohio, in 1970 to become assistant director of parks and recreation after he and his wife, Karen, completed their honeymoon. And DeVictor describes his time in Lawrence as a honeymoon.
"We're a growing community, and that makes it an exciting place to be," said DeVictor, who said he plans to continue living in Lawrence.
Today, there are 54 parks in Lawrence. DeVictor doesn't know how many there were when he came to the city in 1970, although he said it was certainly less than half that number.
The only two recreation buildings the city had then were the Community Building and the South Park Recreation Center. Most youth baseball games were played in South Park. The city west of Kasold Drive largely did not exist.
DeVictor's tenure encompasses construction of Eagle Bend Golf Course, the Indoor Aquatic Center, Prairie Park Nature Center and Clinton Lake Softball Complex; expansions of the Outdoor Aquatic Center and East Lawrence Recreation Center; numerous additions of neighborhood parks and trails; significant increases in the number of recreation classes; and the creation of out-of-the-norm attractions such as dog parks, Frisbee golf courses and skateboard facilities.
Reaching out to people who may not be using traditional parks and recreation services has been important, DeVictor said.
"Skateboarders, for example, may not be the kids who are participating in organized activities like baseball or basketball, but they still have needs," DeVictor said. "If you go out and see what they do on a skateboard, you realize it takes a lot of athleticism."
Sometimes, though, the issues have been weightier than where to place a new park or whether to add dodgeball to the city's recreational offerings.
When DeVictor came to the city in 1970, he worked with staff members to help ensure that operations at the city's first racially integrated public swimming pool went smoothly.
"When the citizens passed the bond for that pool back in the late '60s, that was a pretty important vote for the city," DeVictor said.
Consensus-builder
People who have worked with DeVictor said reaching out to people has been one of his strong suits.
"Fred just has a certain warmth about him," said Sharon Spratt, a longtime member of the city's Parks and Recreation Advisory Board. "Everybody in the city has an opinion about how a project should be done, and Fred has a real talent in coordinating all of that. He's skilled in making sure everyone feels welcome."
City Manager David Corliss said DeVictor had brought leadership and vision to the community, and had made an "incredible contribution to the city."
DeVictor praised his staff of 75 full-time employees, and predicts exciting times ahead for the department. Among the projects he'll be keeping an eye on is how the city decides to use approximately 1,600 acres of land beneath the Clinton Dam that it has been given permission to use for recreational opportunities.
"I think there are a lot of exciting things for the future," DeVictor said. "I can tell you that I don't think parks and recreation are going to become any less important in people's lives.
"I think they're going to get more important because people more and more need places and activities that let them get away from their stresses."
Copyright 2018 The Lawrence Journal-World. All rights reserved. This material may not be published, broadcast, rewritten or redistributed. We strive to uphold our values for every story published.