Amanda Bayens isn't a typical new teacher.
She was called a "shining star" last fall when she received a Horizon Award given to top new teachers entering their second year in the profession.
But the Pinckney School second-grade teacher already can see why some teachers don't last in the profession: a heavy workload and little time to plan and collaborate with other teachers.
"It can be overwhelming," Bayens said.
She's not alone.
Recently compiled local results from the Kansas Teacher Working Conditions Survey indicates that 85 percent of the teachers in her school - and 61 percent of Lawrence's teachers - don't think they have enough noninstructional time to do their jobs.
The survey was taken in 2006 of some 21,000 teachers in the state, including about 574 of Lawrence's 922 teachers. It was designed to assess school conditions in the areas of time, professional development, facilities and resources, school leadership and teacher empowerment.
Negotiators for the Lawrence Education Association and for Lawrence's school district are currently discussing increasing the amount of time that elementary teachers have to plan.
Time considerations
Last week, Blake West, president of the Kansas National Education Association, went over some of the localized results of the survey with members of the Lawrence Education Association. West said one of the key concerns he noticed among Lawrence's teachers was the amount of time they had to do their jobs.
For example, 59 percent of them said they disagreed that they have reasonable class sizes, affording them time to meet their students' educational needs.
Also, 61 percent said they disagreed that they had enough noninstructional time to do their jobs.
And an overwhelming number of teachers, 98 percent, said they spent time on school-related activities outside their regular school work day. Thirty-seven percent said they spent more than 10 hours a week outside their regular work day.
Red tape
Paperwork also was a concern among Lawrence teachers.
Lynn Heffley, a Pinckney teacher who was named 2007 Elementary Teacher of the Year, said workloads have been increasing "tremendously" during the 25 years she has taught in Lawrence.
"My workload now has a lot more to do with expectations and paperwork," Heffley said. "We do have a lot more paperwork and record keeping and tracking of children. It takes a lot of time."
Heffley said the extra workload is one factor that drives teachers out of the profession.
"The rewards have to balance with that," she said. "Children are the rewards for me."
The survey showed that 60 percent of Lawrence teachers disagreed that efforts were made to reduce paperwork.
Time important
Martha Gage, director of teacher education and licensure for the Kansas Department of Education, said finding enough time for teachers to meet the demands put on them is complicated.
"We need to be looking at the school day and we need to be looking at the school year," Gage said.
"To be a good teacher, you need time. Time to prepare for the instruction that you've got to deliver," she said. "And I'm just not sure that the way things are set up now that our teachers have enough time."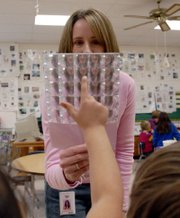 Teachers also need time to talk to other teachers to find out if there are better ways to get the material across to students, she said.
"Teachers hardly have time to think, let alone do planning or do collaborating," Gage said. "I don't know if it's heavy workload or if it's just a function of time. You have to plan for every day. No teacher has a class that is so unified that they don't have to make adaptations to their lesson."
Many people think teaching is going to school at 8 a.m. and leaving at 3 p.m. each day, she said. But teachers have many demands put on them in and out of the classroom.
"They take papers home to grade; they are expected to participate in all of the activities of a school, and it just ends up to be an all-consuming life," she said.
Gage said that stress is leading some teachers to "burn out" and to leave the profession. She said she recently heard there was a National Board Certified Teacher in Kansas who recently decided to walk away from it all.
Still loving it
Christy Kelly, a kindergarten teacher at Cordley School, puts in about six to seven extra hours a week.
She teaches 47 children, which means 47 parent conferences and progress reports.
"At times it can be very time-consuming," Kelly said.
Also, the kindergarten teacher is taking classes to become certified as an English as a Second Language teacher because Cordley is the second school in the district providing services to non-English speaking students.
"It's one class a semester for three years," she said. "We also have homework."
Kelly, who has been a teacher at the school for 10 years, said she understands how all the extra time could burn out some teachers.
"It hasn't burned me out," Kelly said. "I still love it, even with the extra time, I think. It's a great job."
Copyright 2018 The Lawrence Journal-World. All rights reserved. This material may not be published, broadcast, rewritten or redistributed. We strive to uphold our values for every story published.