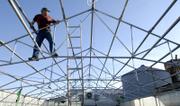 Weather 101
Douglas County Emergency Management and the Topeka National Weather Service plan a statewide tornado drill Tuesday as part of Kansas Severe Weather Awareness Week.They also are sponsoring free weather workshops for the public, from 7 p.m. to 9 p.m.:¢ Thursday at the Lawrence Arts Center, 940 N.H.¢ March 21 at Eudora City Hall, 4 E. Seventh.¢ March 27 at Baldwin Elementary School, 100 Bullpup Drive.
March 12, 2006, was a memorable day.
The Kansas University men's basketball team was crowned Big 12 Tournament champions with an 80-68 win over Texas.
However, some Lawrence residents couldn't watch the game on television because they had no electricity.
Early that morning, a microburst struck Lawrence, causing an estimated $8 million in damage. Seventy buildings on the KU campus and numerous others throughout the city were damaged. At an area farm, 60-foot silos fell.
Gov. Kathleen Sebelius issued a state of emergency for Douglas County.
Jennifer Stark, warning coordination meteorologist with the National Weather Service in Topeka, said the widespread damage was due to "straight-line winds, which can cause more damage than a weak tornado."
Country market
The storm packed a punch as it struck Pendleton's Country Market, a few miles east of Lawrence. There, it caused $250,000 in damage.
"We've never had complete devastation like this," said Karen Pendleton, who owns the market with her husband, John. "Every building, every piece of farm equipment and all but one vehicle was damaged or completely destroyed."
Two 20- by 60-foot silos that once helped customers locate the farm were turned to rubble. A farm shop, greenhouse, shade structure, hay shop and grain bin also were totaled.
"It was unbelievable, just unbelievable," John Pendleton said.
On that destructive morning, after noticing a severe thunderstorm warning for northwest Douglas County and seeing dark clouds in the distance, Pendleton said he decided to park some farm vehicles inside sheds.
In the process, Pendleton said he looked up and saw a "wall of dirt" rolling across the field toward him. He ran inside the market, where he tried to close the door to prevent damage, but the wind was too strong, he said.
"I immediately realized that the building itself might even fall down, so I ran through our market and dived underneath a desk."
He said he remembers the fluorescent bulbs falling down and the floor shaking.
"It sounded like a dozen 747s sitting on top of the building going full bore," he said.
The Pendletons said the storm lasted only a few minutes, but recovery efforts continue today.
They hope to have their 3,000-square-foot greenhouse repaired before opening April 1.
Despite their losses, the Pendletons are counting their blessings.
John Pendleton said they were lucky a sycamore tree fell away from the house instead of on top of it. They also were fortunate that hundreds of caring friends and acquaintances helped them in the days and weeks after the storm.
"It was amazing," Karen Pendleton said.
Historic church
After the storm, services were canceled at historic Plymouth Congregational Church, 925 Vt., where two of its eight brick towers collapsed.
"I was putting my final touches on the morning sermon, and I looked outside and the sky was yellow," said the Rev. Peter Luckey, senior pastor. "Then the second thing that happened is my ears began to pop as if I was in an airplane and I thought, 'Something is not right.' Then, a few seconds later, someone came running in the church saying the two towers of the church had collapsed and the bricks were in Vermont Street."
Luckey said he and other parishioners decided to call off services because they weren't sure the building - built in 1870 - was safe.
He called it "amazing" that no one was hurt.
The microburst happened just before choir members began arriving for practice. He also said he heard that a member of Trinity Lutheran Church was walking down the sidewalk when someone who recognized him offered a ride.
Luckey said the man accepted the ride, and as soon as he got in the car, the towers fell.
"It was quite a morning."
Barbara Holland, business administrator for the church, estimated the damage at $200,000, which will be paid by insurance and the congregation.
Luckey said he has learned a lot about weather in his 11 years of living in Lawrence.
"I am from Connecticut. I knew about tornadoes only from the 'Wizard of Oz.' But when you come out here to Kansas, you certainly learn to take weather very seriously.
"This is a part of the country where weather is always on your mind, and you just pay close attention to it."
Weather spotter
Someone who pays even closer attention to the weather than Luckey is Wayne Deaver, a training officer with Douglas County Skywarn.
Deaver and his wife, Pat, were out getting coffee the morning of the microburst.
"I had made the casual comment to my wife about the clouds. Something didn't seem right, and about that point is when the burst of wind hit," Deaver said. "I immediately knew something was wrong."
Soon, the pager that he carries began beeping. He was asked to watch for more storms and to report storm-related damage from the parking lot near the Lecompton exit of the Kansas Turnpike. Once he was there, he said he saw hail on the ground.
"That's part of what the spotters do - we are the real-time eyes and ears for the county and verify information that appears either on radar or through other information relayed to the public."
Deaver said storm spotters - who are volunteers - train for three months. He trains storm spotters to be prepared for the unusual and how to recognize a situation and react to it.
"There are times where it gets a little tense. The wind or the rain will be coming at you. It's a matter of being prepared and knowing what to expect," he said. "Our primary goal with the storm spotters is their personal safety."
Deaver said although his wife worries about his work, Deaver doesn't fear the elements.
"I am one of those you see standing out in the street watching the lightning and the sky turn green a little bit. I have a respect for the weather."
He believes that respect began as a grade-school student in Haysville, where a tornado roared through while he was at school.
"I remember a tornado coming through the area where I used to live. And doing that 'this is not a drill anymore, this is an actual thing,'" Deaver said. "I remember the roar, I remember everyone saying it sounded like a train. You know at that point - being 8 or 9 years old - yeah, that's what it sounded like to me."
So it's true that a tornado may sound like a freight train, but Deaver said there may or may not be a calm before the storm.
"I've been in several incidences, and never have any of them been the same," Deaver said. "Every scenario plays out differently."
Storm season
As the storm season approaches, Teri Smith, acting director of Douglas County Emergency Management, urges residents to have an emergency plan.
She said families should practice their severe weather safety plan at home, work, school or other public locations during this week's Kansas Severe Weather Awareness Week.
"Always go to the most interior room at the lowest level, avoiding the windows or doors," Smith said. "If you live in a mobile home or are in a car, go to a stable building or low-lying area.
"It's best to take shelter where you are instead of trying to leave the area."
Many residents expressed concern last year when the outdoor sirens weren't activated until minutes after the microburst hit.
But Smith said her agency wouldn't have done anything differently because the sirens are only activated if a "tornado threat" exists in the area. And Stark of the National Weather Service in Topeka agreed.
When the microburst hit last year, there were no signs of a tornado, Smith said.
"Microbursts are hard to predict," she said. "You really can't predict them."
Copyright 2018 The Lawrence Journal-World. All rights reserved. This material may not be published, broadcast, rewritten or redistributed. We strive to uphold our values for every story published.