Photo Gallery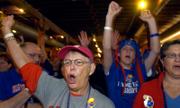 Big 12 Tourney: KU vs K-State
Oklahoma City — Sure, Kansas fans want their Jayhawks today to win the Big 12 Tournament title, land a No. 1 seed in the NCAA Tournament and be ticketed to play in the Midwest Regional with a first-round game Friday in Chicago.
Consensus stuff.
But start inquiring about who folks want in KU's bracket and - well, let's just say KU fans have a taste for revenge.
Erik Hansey wants Illinois as the No. 8 or 9 seed, giving KU coach Bill Self an opportunity to beat his former school. Then Louisville as the No. 4 seed, so that David Padgett could feel what it's like to lose to the team from which he transferred.
On the No. 2 line: North Carolina, coached by former KU head man Roy Williams.
And in the first round?
"Anybody that's not a 'B' school," Hansey said. "Not Belmont."
But David Huckabee says bring the B on. And on.
"I want Bucknell, to get that off our back. Then Bradley," said Huckabee, a junior at Washburn Rural High School in Topeka, of the teams who bounced KU from the tournament in the first round in each of the past two tournaments. "Oral Roberts won their tournament, so we could get them, too.
"Mizzou won't make it, or that would be perfect."
Sara Narges says she has a better idea: Dump Duke from the tournament.
Six times in a row.
"I hate Duke," said Narges, whose father, Marvin Clothier, played football at KU. "Any game - every game - against Duke would be great."
The potential matchups won't be revealed, of course, until the official NCAA Selection Show, set for 5 p.m. today on channels 5 and 13. KU players, coaches and their families will be watching from the Ford Center before heading to the airport for a trip back to Lawrence and, eventually, hitting the Road to the Final Four.
Then it's first things first.
"I don't think it really matters who we see in our bracket," said freshman guard Brady Morningstar, from Lawrence. "I just think it all comes down to not losing in the first round again - just trying to prove to people we're actually as good and capable as we are and have been in the past."
Copyright 2018 The Lawrence Journal-World. All rights reserved. This material may not be published, broadcast, rewritten or redistributed. We strive to uphold our values for every story published.