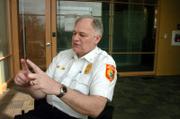 It has been a year of setbacks for Ted McFarlane, former deputy chief of Lawrence-Douglas County Fire & Medical, whose lower legs were crushed in an accident March 12, 2006.
"I've mostly been confined to a wheelchair since the incident," said McFarlane, who is now chief of the Johnson County Med-Act EMS Service in Olathe. "The bones are not healing as much as we had hoped.
"Monday's the 12th, a day that changed my life."
But, he said Friday at his office, he is determined to walk again.
Life-changing day
McFarlane doesn't live in Lawrence anymore. But he was back in town last March after a microburst damaged some rental property he owns.
He'd spent most of the day cleaning up debris at his rental property, 1205 Ky., after the microburst blasted through Lawrence in the early morning. The storm caused roof damage and scattered debris in the yard.
Of course, the Kansas University graduate took time to watch his alma mater defeat the University of Texas in the final game of the Big 12 Tournament at the Lawrence home of his daughter Melia Johnson.
He returned to the rental home to do some last-minute roof work about 5 p.m. when his life took a traumatic turn.
As he was retrieving tools from the back of his vehicle, a 16-year-old girl swerved to avoid traffic. She then rear-ended a parked car that pushed into McFarlane, crushing his legs between the rear-ended car and his vehicle.
During the incident, McFarlane said he "was never unconscious."
While waiting for help, he called Johnson twice: The first time he told her that he had been in an accident and to meet him at the hospital; the second time he told her to come to the scene.
"That is my dad's standard M.O.; he was always matter of fact," Johnson said. "But I could tell that he was in a lot of pain. You could tell that he was concentrating hard on how to deal with it."
McFarlane's situation was ironic.
He had spent most of his life helping to save other lives, and now his former colleagues were helping to save his. And they were using a trauma plan he helped put in place.
Lawrence Fire & Medical Chief Mark Bradford, who did the first assessment at the scene, said McFarlane's professional experience probably helped him as much as it hurt him.
"I think he knew exactly what was going on, which normal patients, if you will, don't know what's going on so that adds to their anxiety," Bradford said. "But part of not knowing what is going on may be good because they don't know the extent of their injuries, and I think he was well aware of his injuries."
McFarlane described his pain as a 10 on a scale of 1 to 10 and knew he needed to get to a tertiary hospital within the "golden hour."
"You need to be at a tertiary center in 60 minutes of your injury to have the best chance of recovery," he said.
He was flown by helicopter to Overland Park Regional Medical Center, where he underwent surgery to stabilize the fractures and clean his open wounds.
The next day he had surgery to insert a plate and screws in each leg.
"They were trying to piece them together just like a puzzle piece," McFarlane said.
When the accident happened, his wife, Marcia, was in Mexico on spring break with the couple's other daughter, Bailey, now a freshman at KU. On the third day of their trip, they received the "earth-shattering news" from Johnson. It took them 24 hours to make their way home and join the family, which also includes the McFarlanes' son Evan, now a sophomore at KU.
While in the hospital, McFarlane said he caught pneumonia and then suffered from a respiratory infection. After 10 days, McFarlane returned home and began physical therapy. He said the infections probably added to his recovery time.
Prolonged recovery
Doctors initially said it would be three to six months before he would walk. By September, he returned to work and things were looking up. Then, in October, he had surgery on his left hand for carpal tunnel syndrome, a side effect of using crutches.
In December, McFarlane said he began to notice a lot more pain because screws were loosening in his right leg. So he underwent another surgery in January when doctors replaced the plate and added screws in that leg. He also had bone grafts - a surgical procedure that replaces missing bone with other materials.
Now, he has 13 screws and one plate in each leg. McFarlane said the plates and screws cost about $18,000. He kept the old plate as a memento and is considering selling it on eBay. So far, he estimates his medical costs at $250,000, but he has insurance.
Daily frustrations
Three weeks ago he returned to work, where he oversees a staff of 145 employees. Meanwhile, he is scheduled for another surgery April 3 when bone grafting will be done on his left leg.
McFarlane's wife said he hasn't let his physical disabilities get in the way of a profession he loves.
"As soon as it was humanly possible, he was back on his computer, talking to people at work and doing some financial decisions with the household," she said. "That is just what keeps him going."
Bradford, who has known Ted McFarlane for about 20 years, said he can't imagine the effect the injury has had on his personal and professional life.
"He is one of those individuals in leadership that has always demonstrated as kind of a role what to do, and he did those things," Bradford said. "So now that he may be limited in what he can do, I am confident that's frustrating for him."
And it is.
Ted McFarlane said he misses working in the yard and fixing things around the house.
"There's many things that I will never be able to do that I used to do," he said.
Johnson said she knows it has been tough for her dad to slow down.
"Dad is such a doer, and I know that it is driving him crazy that he can't be Mr. Fix It," she said.
Staying positive
Ted McFarlane said he hasn't met or talked with the teenager who rear-ended the car, and he hasn't thought about playing the blame game.
He and the members of his family, which they describe as close, are focused on the positive.
"He has made very, very few negative remarks in spite of all of it," Marcia McFarlane said. "Instead of just laying blame on anyone for what happened, it's more the circumstance. What it did was remind us how fragile your life is."
Copyright 2018 The Lawrence Journal-World. All rights reserved. This material may not be published, broadcast, rewritten or redistributed. We strive to uphold our values for every story published.