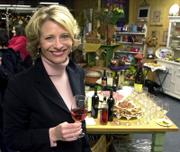 Santa Rosa, Calif. — Women buy much of the wine purchased in the United States, and they make quite a bit of it too. But it's mostly male critics who proclaim what's prime and what's plonk.
Enter the National Women's Wine Competition this month in Northern California. The event, judged entirely by women, boldly sports the slogan "Wine Women Want." There's even a separate category of entries from female winemakers to add an extra fillip of vintage suffrage.
The competition runs Tuesday through Thursday in Santa Rosa, and interest in being a single-gender contender has been keen. Wineries from across the country responded and about 1,800 entries have come in, more than double expectations.
"We seem to have hit a nerve," organizer Lea Pierce said.
Having an all-woman panel is a departure for the wine industry, where judging remains largely a man's world, something Pierce and others attribute more to slowly changing trends in the wine industry than overt discrimination.
Organizers believe this is the first contest judged by an all-woman panel in the United States. An international competition to be judged by women is planned in April in Monaco.
"Women want to be recognized. They want to have their own venue," Pierce said. "I do think it's very important, long-term, to raise up a new set of women critics."
The competition began as a "bolt from the blue," during a conversation about wine contests in general a few years ago, said Pierce, co-owner of an advertising agency and member of a networking group called Women for WineSense.
"At that point, I'd been in the wine industry for a couple of years, I was really aware of how many women are involved in wine and how it was growing. It was just sort of this insight that it would be a good thing to showcase women," she said.
Months of organizing followed.
"The phone calls have just been fabulous," Pierce said. "Big wineries, little wineries. One woman called, she said, 'I'm so psyched about this. My mom has been making wines for 30 years and it's about time she got some recognition."'
Co-chairwomen of the competition are Margrit Mondavi, a longtime force in wine country and wife of pioneering vintner Robert Mondavi, and Kathryn Hall, a former ambassador to Austria and a Napa Valley vintner.
Contestants include Marcia Monahan, winemaker at Pelton House, a new winery in the Knight's Valley region of Sonoma County. She's entering a 2004 cabernet sauvignon and 2004 merlot in three categories, including the women winemaker's challenge division. "It's fabulous that women are getting together to evaluate and judge wine," she said.
Is there a difference between male and female palates?
Linda Bisson, a professor in the wine department of the University of California, Davis, hasn't seen a gender gap in her years of teaching, although she liked the idea of bringing more women to the judging table.
Leslie Sbrocco, author of "Wine for Women," doesn't think there's a "male" or "female" palate, but that doesn't mean there's no distinction.
"It's not about the female palate being different. It's about the female perspective being different," Sbrocco said.
Wilfred Wong, cellar master for Beverages & More, a California retail liquor chain, remembers when wine contests were the province of "codgers and good old boys." That started to change in the '90s with the judging becoming much more competitive and the emphasis shifting to using professionals.
Pierce said the point of the competition is to demonstrate "what these women think is good. It's really about a bunch of women with great palates recommending wine to other women."
Women want to be recognized, Pierce said. And, she added, "people want to know what wine women want. Especially men."
Copyright 2018 The Associated Press. All rights reserved. This material may not be published, broadcast, rewritten or redistributed. We strive to uphold our values for every story published.