Photo Gallery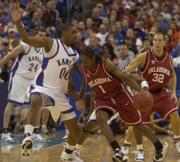 Big 12 Tourney: KU vs OU
Oklahoma City — Oklahoma University lost Friday afternoon's Big 12 tournament quarterfinal game to Kansas University when former Sooners coach Kelvin Sampson bolted for Indiana and successor Jeff Capel couldn't convince Sampson's prize recruits to stay.
Scottie Reynolds was supposed to be a freshman at Oklahoma. Instead, he's already Villanova's best player. Damion James has been a strong inside player for Texas. He originally signed with Oklahoma.
After his team lost, 64-47, on Friday, Capel was asked if the only means to better days is successful recruiting.
"Well, any program, the lifeblood of your program is recruiting," Capel said. "You have to have players. That's the bottom line. You have to have players, and the players that you have, they have to believe in you. They have to want to play for you."
The Sooners played as if they believed in their coach and trailed 30-28 at the half. They couldn't maintain it, grew tired and began to clank shot after shot off the front of the rim. Trying to keep up with a team as quick as Kansas tends to make teams tire more rapidly, and KU is able to turn it into a transition game, which tends to mean a blowout.
"They definitely didn't intimidate us," Oklahoma forward Nate Carter said. "We just missed shots. We were attacking them. We were going at them. We just missed shots that we normally make."
Tired players tend to miss shots.
"They are awfully good, very talented," Capel said of the Jayhawks. "They were just too much for us."
Oklahoma will wait to hear if it receives a bid to the NIT.
"I knew who we were at the beginning of the year," Capel said. "We've tried to work. I think we have gotten better. I think we've improved. But we have to improve our talent in some areas. We do. I understand that. Our staff understands that. And that's something we look forward to doing."
Copyright 2018 The Lawrence Journal-World. All rights reserved. This material may not be published, broadcast, rewritten or redistributed. We strive to uphold our values for every story published.