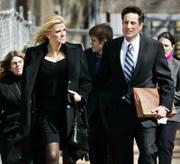 Fort Lauderdale, Fla. — A friend of Anna Nicole Smith who said she asked him to secure her belongings if "something ever happens" to her, turned them over to authorities in South Carolina because he feared her death was drug-related and a crime, the man's attorney said Friday.
The friend, Ford Shelley, who lives in Myrtle Beach, S.C., wants prosecutors to determine if Smith's computer equipment offers any evidence of a crime, Shelley's Fort Lauderdale attorney, Walter "Skip" Campbell, said Friday.
"He has concerns ... that something might have occurred that led to the death of Ms. Smith," Campbell said. "He had some evidence and he wants it looked at by the authorities."
Smith was found unresponsive Feb. 8 in her hotel room at the Seminole Hard Rock Hotel & Casino and later pronounced dead at Memorial Regional Hospital in Hollywood.
Broward Medical Examiner Dr. Joshua Perper on Thursday delayed ruling on Smith's cause of death because of two new pieces of evidence that have cropped up. Perper, who has not disclosed the evidence, could not be reached for comment Friday.
Shelley said he befriended Smith when his father-in-law, G. Ben Thompson, dated her. Thompson later allowed her and her longtime companion, Howard K. Stern, to move into a house he owned in the Bahamas, Shelley said.
On Feb. 22, Shelley testified in Broward Circuit Court that Smith entrusted him with protecting her personal belongings.
"She looked at me and said, 'Ford, if something ever happens to me, and Howard is not around, take the computers and passports,'" Shelley said in court. "She gave me the password."
The day after Smith died, Shelley went through the Bahamas home.
Shelley has said he found liquid methadone in a refrigerator in Smith's bedroom, but left it behind.
He took two laptop computers, an external hard drive, eight or nine mini-videocassettes and documents and turned them over to the Horry County Sheriff's Office in South Carolina on Feb. 13, Chief Deputy Paul Butler said Friday.
"He came in and said that she wanted to keep these items from falling into the wrong hands," Butler said.
Horry County authorities turned the items over to the Seminole Police Department on Feb. 15 after talking with tribal police and Broward County homicide prosecutors. Campbell and authorities have declined to identify what the potential evidence is.
Campbell said law enforcement has not examined the contents of the computer equipment because of several legal issues:
¢ Does law enforcement need a warrant to access the computer information?
¢ What can be legally done with property surrendered to the Seminole Tribe, a sovereign nation not subject to Florida laws?
If the computer equipment contains evidence of a crime, Broward prosecutors want to be sure they follow the appropriate laws to ensure they could use it if criminal charges are filed. Shelley has not accused any individual of having played a role in Smith's death, Campbell said.
"No one's looking at anybody, no one's pointing the finger at anyone," Campbell said. "The question is, is there any criminal responsibility from a legal standpoint? We are trying to make sure that everything is looked at that needs to be looked at."
Seminole police could not be reached for comment Friday, despite several phone calls. The Broward State Attorney's Office has said its prosecutors are not conducting a homicide investigation, but are helping the medical examiner and police "investigate suspicious circumstances" surrounding Smith's death.
Authorities have said they found prescription drugs in Smith's Hard Rock hotel room when she died. They declined to say which drugs were found but said there were no illegal drugs.
Smith's drug use became an issue in legal battles between Stern; Smith's mother, Virgie Arthur; and Larry Birkhead, Smith's ex-boyfriend. Arthur testified Feb. 20 that Smith preferred drugs like valium.
"She liked downers," Arthur told the court.
Stern testified the next day that Smith would sometimes obtain prescriptions under false names like "Michelle Chase" and "Susie Wong." One of her doctors, Dr. Sandeep Kapoor, who practices in California, provided Smith with prescriptions for methadone, Stern also said in court.
A private American medical examiner hired by Smith concluded that methadone contributed to the death of Smith's son, Daniel, 20, in September.
Copyright 2018 The Lawrence Journal-World. All rights reserved. This material may not be published, broadcast, rewritten or redistributed. We strive to uphold our values for every story published.