Brandon Rush's coach ordered him to be more aggressive in the second half.
Maybe more importantly, so did some of his peers, not enthralled with the Kansas University sophomore's three-shot, three-point, first-half effort in Friday's Big 12 tournament quarterfinal game against Oklahoma in Ford Center.
"Everybody in the locker room said something. Mario (Chalmers) said something. He said, 'We need you right now,'" said Rush, who responded with 13 points off 5-of-8 shooting the final half, most off drives to the hole.
His slashing ability helped the Jayhawks awaken from an early slumber - "It was really tough getting up (at 7 a.m.) today," Rush said - and break open a two-point game at halftime to dump the Sooners, 64-47.
The victory pushed the Jayhawks (28-4 overall, 14-2 Big 12) into today's 1 p.m. semifinals against Kansas State (22-10), a 66-45 quarterfinal winner over Texas Tech.
"Brandon is key to our team. When we get him going, everybody gets going," Chalmers said. "I said, 'Come on, just be more aggressive. Attack the basket.' He was like the old Brandon the second half, playing great 'D' and getting in the attack lanes."
Rush's effort, plus a defensive performance that held OU to one field goal in 15 tries the first 15 minutes of the half and 4-of-20 shooting the final 20 minutes, quieted an Oklahoma team that fell to KU, 67-65, just two weeks ago in Norman, Okla.
Go figure
11 First-half field goals by Oklahoma4 Second-half field goals by the Sooners0 Second-half three-point field goals by Oklahoma2:6 OU's second-half assist-to-turnover ratio3 First-half points by KU's Brandon Rush13 Second-half points by Rush20-14 OU's first-half rebounding advantage20-14 OU's second-half rebounding deficit
"They were getting straight line drives on us," OU coach Jeff Capel lamented after his Sooners fell to 16-15 overall. "Brandon Rush got one on the left wing when he drove it right down the middle. Looked like Moses had a staff and the sea parted right there. That's disappointing."
Rush was one of two Jayhawks to score in double figures.
The other was freshman forward Darrell Arthur, who scored 10 points and grabbed three rebounds with two blocks in 16 minutes.
Not bad for a guy who was floored by a nasty virus after awakening Monday morning. He was able practice part-time this week and answered the call versus the Sooners.
"I was told to not play him more than three minutes at a time, and it maxed out at 10. I broke that a little bit," KU coach Bill Self said. "He was winded at times. It was good he was able to do some positive things. He should be able to go more tomorrow."
Arthur said he was in a world of hurt Monday.
"I woke up feeling pain up here," he said, pointing to his chest. "I had to go see a lung specialist. He told me there's nothing but a little virus there and I should be better by the end of the week. The doctors gave me medication that helped me out. I felt a lot better after I heard I could play in the tournament."
Making Arthur feel worse were early-week Internet posts from somebody who indicated the 6-foot-9, 230-pound freshman had a heart attack and was being treated at the hospital.
"They (doctors) didn't think it was my heart," Arthur said. "I heard about that (message-board post). It upset me a little bit. It wasn't my heart."
Arthur, who Self said had some shortness of breath and lung pain that was deemed a virus after a battery of tests, felt energized Friday.
"I had a lot of bounce," he said. "Julian (Wright, seven points, 15 minutes) was in foul trouble, so I tried to help the team as much as I could, play as much as I could."
Fellow freshman Sherron Collins, who had been scoreless the last two games, rallied for eight points off 4-of-8 shooting, though he missed four threes. Chalmers had nine points and Sasha Kaun eight on a day the Jayhawks held the Sooners to 31.3 percent shooting.
Big 12 tournament scoreboard
Friday's GamesKansas 64, Oklahoma 47Kansas State 66, Texas Tech 45Oklahoma State 57, Texas A&M; 56Texas 74, Baylor 69Today's Semifinals1 p.m. - Kansas vs. Kansas State3:30 p.m. - Oklahoma State vs. TexasSunday's Championship2 p.m. - semifinal winners
Really the only negative for KU again was free-throw shooting. KU hit 11 of 22 charities to OU's 15 of 19.
"We talked about as a staff on the bench we weren't going to talk about free-throw shooting. But to answer your question, 'Yes,''' Self said, asked if he was concerned. "We've got better shooters than 11-of-22. But we're not going to talk. Sometimes the more you talk about missing short putts or free-throw shooting, the more it gets in your head. I don't believe it's in our head to the point where we have a phobia about it or anything. You've got to make free throws in the postseason."
Playing defense like KU does helps in the postseason, too.
"We were focused on defense and rebounding the second half," Rush said. "We were aggressive."
Photo Gallery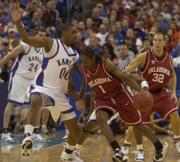 Big 12 Tourney: KU vs OU
Now if he can remember to be aggressive the first half today.
"Brandon shied away from taking action the first half," Self said. "We are not going to be a real good team unless we have our best offensive players stepping up and making plays or taking shots."
"When he's making plays, we're at a different level," junior Russell Robinson said. "I always know Brandon will come through. It might take awhile, but I know he's going to get there."
Copyright 2018 The Lawrence Journal-World. All rights reserved. This material may not be published, broadcast, rewritten or redistributed. We strive to uphold our values for every story published.