Oklahoma City — The next time Kansas University junior center Sasha Kaun takes anybody's breath away during the course of a basketball game will be the first time.
Ever notice that when he puts his mouthpiece back in place oh so deliberately, he looks more like a heavyweight boxer than a starter on the fastest team in college basketball? He easily could pass for a Klitschko brother.
Maybe Kaun's lack of sizzle wouldn't be as noticeable if he were playing for another team. If he weren't surrounded by so many high-flying high school All-Americans who have NBA potential if they are wise enough to stick around for another year or two of polish, he might blend in better.
Aside from his lack of smoothness with the ball, though, Kaun has more in common with teammates than first impressions suggest. For one thing, he slides his feet well on defense for a man his size. For another, he runs the floor extremely well for a man so big. He's not as explosive as teammates and certainly not as skilled, but he is appreciated by those who have those gifts.
"He's mammoth in there," Julian Wright said of Kaun. "He's really good at altering shots and even blocking shots. He makes good outlet passes that lead to a lot of fast-break opportunities for us. He plays pretty smart in terms of not fouling, not getting silly fouls. All he has to do is put his hands up, and it makes it hard for people to get around him or get through him."
During Friday's 64-47 victory against Oklahoma in the Big 12 tournament quarterfinals, Kaun had as much as anybody to do with the Sooners shooting 20 percent in the second half and 31 percent for the game. Longar Longar's quickness gave him trouble at times, but Kaun kept plugging away, helping out to stop guards driving toward the lane.
Kaun, who had eight points and seven rebounds in 30 minutes, is bound to play an important role in the early rounds of the NCAA Tournament because the Jayhawks likely will play teams looking to slow down the pace. That's no reason to feel nervous. Steadily, subtly, the big Russian has improved. He's even doing a better job of catching the ball, as evidenced by the second-half bullet he received from Sherron Collins.
"He clogs up the middle," Russell Robinson said of Kaun's value. "He allows guys like Julian and Darnell (Jackson) and Shady (Darrell Arthur) to gamble a little because he's in there with a big body. He's not the best shot-blocker in the world, but he's a big body, and he definitely distracts a lot of people. Sasha can move, and he jumps pretty well."
Photo Gallery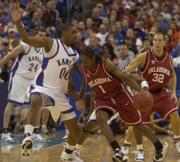 Big 12 Tourney: KU vs OU
Longar got the better of Kaun and the rest of the KU big men early, but pluggers never stop plugging, never get discouraged, never let their emotions take control. At one point late in the first half, Longar put up a shot that Kaun blocked back into Longar's hands. Longar put up another shot, and Kaun blocked it again.
Kaun never will become a major offensive force for the Jayhawks. They have too many better scoring options. Although Kaun is good at establishing inside position, he's not a great finisher, especially when getting hacked. That's OK. At the other end, players tend not to finish so hot either against Kansas, and Kaun deserves a lot of the credit for that.
Copyright 2018 The Lawrence Journal-World. All rights reserved. This material may not be published, broadcast, rewritten or redistributed. We strive to uphold our values for every story published.