New York — John Thompson led Georgetown to six Big East tournament titles and its last appearance in the championship game. Now, his son has a chance to experience a conference final.
Jeff Green had a career-high 30 points, including the winning basket with 13 seconds left, and 12 rebounds to lead the ninth-ranked Hoyas to an 84-82 victory over No. 20 Notre Dame in the semifinals Friday night.
DaJuan Summers added 18 points, and Patrick Ewing Jr. tied his career high of 15 to help top-seeded Georgetown advance to the final for the first time since 1996 with its 14th win in 15 games.
"It is extremely rewarding to have the opportunity to play for the tournament championship," Hoyas coach John Thompson III said. "That's something that's special. Something that so few people get the opportunity to do is walk out on that floor tomorrow night and get a chance to play for the tournament championship."
Georgetown will face third-seeded Pittsburgh.
"That's what everyone in the league wants to be playing," Thompson said. "And we're one of the two teams that will be."
Green muscled his way through the lane for the go-ahead layup before missing the ensuing free throw.
"Pat just threw it down, and I went into my move, and they fouled me, and I got the lucky roll," Green said. "I jut put it up there and tried to get it on the rim, and it went in. It was a lucky shot."
The Irish had a chance to win, but Russell Carter's three-point shot with six seconds left bounced high off the rim. The Hoyas' Jon Wallace chased down the loose ball and heaved it high in the air toward midcourt.
Summers hugged Green near midcourt after the final buzzer, and Thompson got a high-five and pat on the back from his father, who led the Hoyas to their six Big East titles from 1982-89.
No. 1 Ohio State 72, Michigan 62
Chicago - Greg Oden scored 22 points - 15 in the second half - and Ohio State won its 15th straight game.
Oden scored 11 of his points in the final 8:27 after Michigan had pulled to within four.
Ohio State hasn't lost in two months - a defeat Jan. 9 at Wisconsin.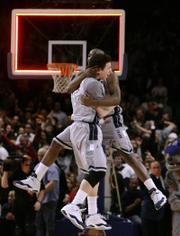 No. 3 Wisconsin 70, Michigan State 57
Chicago - Alando Tucker, held to three free throws in the opening half, made four three-pointers in the second half to lift Wisconsin over Michigan State in the Big Ten quarterfinals.
Tucker, the league's player of the year, finished with 21 points - his 39th straight game in double figures - and the Badgers advanced to a semifinal today against Illinois.
No. 5 Memphis 71, Tulane 49
Memphis, Tenn. - Chris Douglas-Roberts scored 17 points, and Memphis extended the nation's longest winning streak to 21.
The top-seeded Tigers meet Houston in the championship today. The regular-season champions will be playing for consecutive tournament titles on a court where they have won 31 consecutive games.
No. 6 Florida 74, Georgia 57
Atlanta - Florida scored the first 17 points of the game, built a 25-point lead before halftime and romped past Georgia in the Southeastern Conference quarterfinals.
Taurean Green scored 19 points to lead the Gators, who looked vulnerable when they closed February by losing three of four.
No. 8 North Carolina 73, Florida State 58
Tampa, Fla. - Wayne Ellington scored 18 points, and Ty Lawson had 14 to lead North Carolina in the Atlantic Coast Conference quarterfinals.
The Tar Heels' balanced attack was too much for the Seminoles' one-man show, Al Thornton. FSU never led, and Thornton - the ACC's leading scorer and runner-up for conference player of the year - scored 12 points before fouling out with more than six minutes to go.
Utah State 79, No. 10 Nevada 77
Las Cruces, N.M. - Chaz Spicer hit two free throws with 2.5 seconds left, and Utah State took advantage of an intentional foul call in the Western Athletic Conference semifinals.
Jaycee Carroll scored 24 points to lead the Aggies, who beat Nevada for the second time in a week to move into today's championship game.
No. 13 Pittsburgh 65, No. 12 Louisville 59
New York - Antonio Graves scored 10 of his 23 points during Pittsburgh's 20-2 run to start the second half, and the Panthers advanced to the Big East tournament championship.
Pittsburgh will play in the title game for the sixth time in seven years, and second in Jamie Dixon's three seasons as coach. Mike Cook added 13 points and eight rebounds for Pittsburgh, which last won the Big East tournament in 2003.
No. 16 Oregon 81, California 63
Los Angeles - Taj Porter led a balanced offensive attack with 24 points, and Oregon built a 21-point halftime lead in the Pac-10 tournament semifinals.
The fourth-seeded Ducks advanced to today's championship game for the first time since winning the 2003 title.
Malik Hairston added 22 points for Oregon.
No. 23 BYU 96, Wyoming 84
Las Vegas - Trent Plaisted tied his career-high with 27 points to help BYU in the Mountain West semifinals and send the Cougars to the conference championship for the first time since 2001.
The Cougars' troubles at the foul line - they missed 16 overall, and Plaisted hit only hit seven of 16 - made for a tense final few minutes after building a 25-point first-half lead.
Conference player of the year Keena Young added 12 points and 10 boards for BYU, which also got 16 points from Austin Ainge.
Copyright 2018 The Associated Press. All rights reserved. This material may not be published, broadcast, rewritten or redistributed. We strive to uphold our values for every story published.