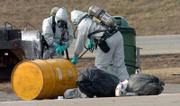 Fire, emergency and hazardous materials crews from as far away as Topeka responded Friday at a Kansas Turnpike service center near Lawrence to collect several pounds of a dangerous powder.
Three Kansas Turnpike Authority employees found the white substance, wrapped in plastic, before noon in a trash can at the service area about five miles east of Lawrence on Interstate 70.
They saw that the substance was burning through the plastic, called authorities and then went to be checked by doctors.
"They're fine," said Lisa Callahan, KTA spokeswoman.
Callahan said experts suspect the substance could be sodium hydroxide, a cleaning agent.
Joseph Heppert, professor and chairman of the Kansas University chemistry department, said sodium hydroxide is a strong base - opposite of acid but equally as dangerous.
"In essence, it's a lot like lye," Heppert said, adding that the chemical is dangerous when it comes in contact with skin or eyes.
Mike Lingenfelser, Leavenworth assistant fire chief, said the powder reacted with water and produced heat. He said he didn't know how the powder ended up at the turnpike service center.
Response teams closed the westbound entrance to the center when they arrived. They reopened it about four hours later.
Leavenworth, Tonganoxie, Reno Township and Topeka crews responded to the call.
Hazardous materials workers loaded between 50 and 100 pounds of the powder into steel drums and then cleaned up the scene.
The Kansas Highway Patrol and Turnpike Authority are investigating the incident.
Copyright 2018 The Lawrence Journal-World. All rights reserved. This material may not be published, broadcast, rewritten or redistributed. We strive to uphold our values for every story published.