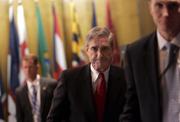 Washington — Stung by a government watchdog's report that the FBI has improperly and sometimes illegally gathered personal information under the USA Patriot Act, FBI Director Robert Mueller on Friday acknowledged his failure to supervise the bureau's expanded data collection powers and vowed to quickly improve accountability.
Justice Department Inspector General Glenn Fine found "serious misuse" of a streamlined subpoena called a national security letter, which allows agents to demand certain kinds of financial and communications records from businesses without a court order.
The 126-page report quickly triggered calls by Democrats and Republicans alike for congressional hearings and renewed debate about the proper balance between preserving civil liberties while providing investigators with the legal tools needed to thwart plots by terrorists.
It also raised questions about the job security of Mueller and Attorney General Alberto Gonzales.
Fine's findings were delivered to a Justice Department already embroiled in a bitter face-off with Congress over the circumstances surrounding the firings of eight U.S. attorneys and they prompted rare public criticism of the FBI by a clearly perturbed Gonzales.
Mueller blamed himself for not establishing procedures to monitor his agents' use of national security letters.
"The inspector general did the audit I should have put in place years ago," Mueller said in a hastily arranged late morning briefing. "I am the person responsible. I am the person accountable."
Despite the abuses, Mueller said the national security letters are vital to national security investigations and that their use should continue, albeit with greater safeguards.
Copyright 2018 The Lawrence Journal-World. All rights reserved. This material may not be published, broadcast, rewritten or redistributed. We strive to uphold our values for every story published.