Oklahoma City — Sherron Collins' scoring is back. Sort of.
Kansas University's freshman guard had a goose egg in each of his last two games in terms of point production. So to have simply an average outing - eight points on 4-of-8 shooting - in KU's 64-47 victory over Oklahoma on Friday was almost a bit of a relief.
"It was nice to get going, to get started," Collins said after the Big 12 tournament quarterfinal game in the Ford Center. "But (the slump) had no effect on me trying to come in and do as I normally do."
It also had little effect on KU's offensive performance during Collins' struggles. In the Jayhawks' last two regular-season games, Collins had no points on 0-for-9 shooting. Yet KU dropped 90 points on Texas and outlasted OU the first time around in Norman, Okla.
KU's deep, versatile team seems designed to withstand cold stretches like the one Collins is in.
"The way we are, it's usually a different guy or different guys' night each night," KU coach Bill Self said. "We need to get all of our best players playing well, and of course shooting the ball is a big part of that. We have been so inconsistent doing that."
Now for the bad news: Collins still hasn't made a jump shot since Feb. 24 against Iowa State. His four makes on Thursday were close-range layups, including a beautiful trademark up-and-under in traffic during the second half.
But his four misses were three-point attempts, including a first-half airball. He has been off on his last seven three-point attempts.
It's a lingering cold spell, no doubt, but one that doesn't have his teammates too worried.
"We don't live and die by the three," guard Russell Robinson said, "so it doesn't matter if he's hitting them or not. He's still going to find a way to win and score.
"He's a real confident dude. On this team, we have me and Mario (Chalmers) to pick up the slack for him. The main thing is that he stays confident and stays aggressive, and I think he'll do great."
So Collins' slump is dying a slow death, it seems. Friday's game showed that the basket isn't covered in cellophane whenever Collins drives to the rack - though it still might be whenever he shoots the ball from outside.
Photo Gallery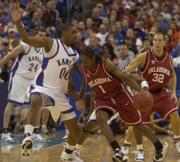 Big 12 Tourney: KU vs OU
"I think it will come back," Self said. "He's not scared to miss, so he has got confidence to make them. I think he will make them.
"Certainly it was good to see him make a couple of layups today because the lid has been on the basket for about a week."
Copyright 2018 The Lawrence Journal-World. All rights reserved. This material may not be published, broadcast, rewritten or redistributed. We strive to uphold our values for every story published.