Oklahoma City — Don't worry, Jayhawks fans. The NBA can wait for Brandon Rush.
The guy in the No. 25 jersey said as much Friday, with a smile as wide as a youngster dreaming of a professional career and eyes focused crisply on postseason championships.
We're talking, of course, about Mr. Rush.
That's Dustin Rush, age 9.
"He'll stay," the confident grade-schooler said Friday, of the star player with whom he shares a last name, a home jersey and career aspirations. "He's really good at Kansas, and I think he likes Kansas."
Whew. Now that we've got that settled :
¢ Cleaning up: Cleanup folks here at the Ford Center are getting a hand from three memorabilia-grabbing girls from Wichita.
Whether it's strings of beads, a dropped ticket stub, a discarded pompom or seemingly anything else connected with the Big 12 Tournament, Cassidy Harbert, Chandler Dopps and Morgan Balderas are on it.
They're even salvaging a handful of oversized "OU" foam fingers, using a Sharpie to convert each "O" to a "K."
"We just walk around and find stuff," said Cassidy, an 11-year-old sixth-grader. "This is our first time coming here. We want to remember it."
Morgan isn't about to forget. All three girls managed to coat their faces with crimson and blue before the game - using poster paint they're convinced is washable.
"It's starting to dry," Morgan said, as she searched for KU players to sign her T-shirt. "And it hurts."
Photo Gallery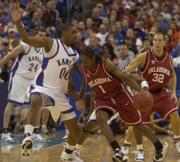 Big 12 Tourney: KU vs OU
¢ Retro challenge: Roger Morningstar is ready to suit up again for the Jayhawks, 33 years after his club reached the NCAA title game against UCLA.
His desired opponent: This year's Jayhawks, a roster that includes his son, Brady.
"We were a lot better," Dad said with only a hint of a laugh, from his seat five rows behind the KU bench. "We'd love to have the opportunity to play them - even today. But that would be behind closed doors. We wouldn't want to embarrass them."
But seriously, folks :
"The players today are so much bigger and stronger," Roger Morningstar said. "We didn't have any real stars, but we blended together as a team. These guys, they have a lot of really great players who blend together as a team."
That's the makings for a Final Four club, he said. Opponents can't concentrate on a single player to shut down.
Roger Morningstar, by the way, averaged 12.3 points per game as a junior, second on the team that played in the 1974 Final Four.
He's hoping that his son, averaging 2.2 points as a freshman, can play in such a game to close out this season in Atlanta.
¢ Hitting the road: Don't criticize Leroy Jones for crashing Friday afternoon on the lawn outside the Ford Center.
The KU fan grabbed a nap after the Kansas State-Texas Tech game, the fifth consecutive matchup he'd watched in Oklahoma City and following up on the 11 he'd attended last week at the Missouri Valley Conference Tournament in St. Louis.
He'll stay through Sunday's title game in Oklahoma City, then head back to Parsons for a Road (That Doesn't Lead to) the Final Four. The motorcoach driver will be hauling two groups of high schoolers from the Phillipsburg/Smith Center area east to New York, then Washington, D.C.
"I've got a long two weeks ahead of me," he said, after waking from his slumber.
Jones plans to keep up with his Jayhawks during the 3,200-mile trek the way he always does: on the radio, through calls on his cell phone or tuning in the 3-inch RCA TV that he keeps on his hip.
"My dream is to go to the Final Four," he said.
He promises to be awake for that.
Copyright 2018 The Lawrence Journal-World. All rights reserved. This material may not be published, broadcast, rewritten or redistributed. We strive to uphold our values for every story published.