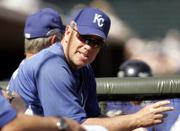 Surprise, Ariz. — Since he's still recovering from shoulder surgery and not yet able to participate fully, Scott Elarton has had time to just sit back and observe. He likes what he sees in the Kansas City Royals' camp.
Three weeks in, there appears to be a subtle sense of optimism that's more than just brave talk from a franchise that's lost 100 games four of the past five years and could hardly go anywhere but up.
Fueled by talented young players, this cautious hopefulness seems genuine.
"I think there's just a lot more positive outlook," Elarton said Thursday morning, sitting at his locker and stretching his long legs into the bustling clubhouse.
"I think we expect to win now. That's from day one."
This year's camp has been energized by some of the most promising talent to pass this way in many years. Sitting right next to each other in one corner of the clubhouse are the overall No. 2 and No. 1 picks in baseball's June draft the past two years, third baseman Alex Gordon and right-hander Luke Hochevar.
Gordon had a double and a triple and drove in four runs Thursday in an 11-3 victory over Seattle that raised the Royals' spring record to 5-3. He seems almost certain to open the season at third base. The hard-throwing Hochevar may not be far behind.
"I'm trying not to think I've won a job or anything like that," Gordon said. "I have to impress some people. Hopefully when they make the decision, I'll make it easy for them."
But the biggest change Elarton detects may not stems from anyone who's in uniform. Dayton Moore, hired in June to replace general manager Allard Baird, seems to be succeeding in creating a whole a new attitude.
His message to the players when they first pitched camp three weeks ago was short and to the point.
"Dayton came in and said, 'I expect to win,"' said Elarton. "He spoke for about 5 minutes and that was the message of the meeting."
It's a different attitude from past years.
"When it comes from the top, they expect to win, it has kind of a trickle-down effect," said Elarton. "I think there's a lot of positives to look forward to. We're headed in the right direction. It's just a matter of how soon we can get it all together."
A year ago, Elarton was the Royals' prize newcomer. He was the starter on opening day. But shoulder problems led to surgery in August and now his timetable, probably hurried by a sense of impatience, calls for another couple of months of rehab.
"This is my third shoulder (operation) and I've had one elbow. I've been around the block," said the 6-foot-7 right-hander. "So far, this has been the best one so far. Just the recovery and the rehab process. I haven't had any setbacks and my arm has felt good since I started throwing on Dec. 15."
The entire rotation could be different from last year, and Elarton is eager to make a bid for a spot.
"I'm hoping to be in the big leagues in the middle of May. It's coming along pretty quick," he said. "I wish it was the middle of April. But you've got to hold back a little bit. Right now, I'm ahead of where I was a year ago at this point. My arm feels better and my pitches are working just as good in the bullpen. It's just a matter of taking it to the game."
Manager Buddy Bell agrees with Elarton on one point and disagrees on another. He does sense a genuinely positive outlook. But he doubts Elarton can return to the rotation by May.
Copyright 2018 The Associated Press. All rights reserved. This material may not be published, broadcast, rewritten or redistributed. We strive to uphold our values for every story published.