Los Angeles — On the losing end twice against UCLA after owning first-half leads, California nearly let it happen again. This time, the Golden Bears got an extra five minutes and finished off the Bruins.
Ayinde Ubaka scored eight of his career-high 29 points in overtime, and California stunned fourth-ranked UCLA, 76-69, in the Pac-10 tournament quarterfinals Thursday night.
"We fought too hard to give this one back," Cal coach Ben Braun said. "We were frustrated that we had two games with pretty good leads and lost."
UCLA's second straight defeat dealt a serious blow to its hopes of being a No. 1 seed in next week's NCAA Tournament.
"I don't even care," UCLA coach Ben Howland said. "If we don't play better than we're playing right now, anyone in the field of 64 teams will beat us."
Overtime turned into a blowout, with Cal outscoring the Bruins 15-8.
The game was a rematch of last year's Pac-10 title game, won by UCLA on its way to a runner-up finish in the national-championship game.
Ryan Anderson added 18 points for the eighth-seeded Bears (16-16), who gave up a 16-point first-half lead.
"This is what I'm going to remember (from) my freshman year," said Anderson, who had a career-high 27 points in a 70-51 opening-round win over Oregon State.
Ubaka, a senior guard, encouraged his teammates to keep the upset in perspective, with No. 16 Oregon waiting in Friday's semifinals. The teams split their two meetings this season.
"This is great, but we have another game tomorrow," he said. "Oregon doesn't care that we won this game."
Darren Collison had 20 points, Josh Shipp 19 and Luc Richard Mbah a Moute 13 for the top-seeded Bruins (26-5), who lost their regular-season finale at Washington.
No. 5 Memphis 92, Marshall 71
Memphis, Tenn. - Doneal Mack and Jeremy Hunt scored 19 points apiece to lead Memphis to victory over Marshall in the quarterfinals of the Conference USA tournament.
Joey Dorsey had 14 points and 11 rebounds for Memphis (28-3), which recorded its 20th straight victory, the longest winning streak in the nation. Chris Douglas-Roberts added 11 points, and Robert Dozier had 10.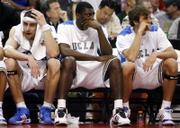 No. 9 Georgetown 62, Villanova 57
New York - Roy Hibbert scored eight of his 14 points in Georgetown's opening 26-2 run, and the Hoyas held on for a victory over ninth-seeded Villanova in the quarterfinals of the Big East tournament.
Jeff Green added 12 points and nine rebounds for the top-seeded Hoyas (24-6), who advanced a semifinal Friday against Notre Dame.
No. 10 Nevada 88, Idaho 56
Las Cruces, N.M. - Marcelus Kemp scored 14 points, and Nevada gave its starters plenty of rest in a win over Idaho in the quarterfinals of the Western Athletic Conference tournament.
Nick Fazekas, who came into the tournament averaging 21 points and 11.3 rebounds a game, had 10 points and 10 rebounds for the Wolf Pack (28-3). His backup, David Ellis, scored a season-high 11.
No. 12 Louisville 82, West Virginia 71, 2 OT
New York - Terrence Williams scored 21 points, and Earl Clark added 17 as Louisville beat West Virginia in double overtime in the quarterfinals of the Big East conference tournament.
David Padgett added 16 points for the Cardinals (23-8), who blew a 17-point lead in the second half before outlasting the Mountaineers.
No. 13 Pittsburgh 89, No. 18 Marquette 79
New York - Aaron Gray scored 22 points, Sam Young added 17, and Mike Cook 16 for Pitt (26-6), which lost both regular-season meetings to Marquette - including a 75-71 defeat on Saturday that spoiled the Panthers' chances of getting a share of the conference title.
No. 16 Oregon 69, Arizona 50
Los Angeles - TaJuan Porter and Aaron Brooks burned Arizona combined for nine three-pointers to help Oregon beat the Wildcats in the quarterfinals of the Pac-10 tournament.
Porter shot 8-of-12 - including 5-of-6 from three-point range - for 21 points.
Miami 67, No. 17 Maryland 62
Tampa, Fla. - Jack McClinton scored 17 points, Brian Asbury added 12, and undermanned Miami upset Maryland in the opening round of the Atlantic Coast Conference tournament.
Dwayne Collins had 12 points and 12 boards for the 12th-seeded Hurricanes (12-19), who nearly squandered a 15-point lead in the second half, but McClinton and Asbury combined to make five consecutive free throws in the final 34 seconds to snap the Terrapins' seven-game winning streak.
No. 20 Notre Dame 89, Syracuse 83
New York - Russell Carter scored 24 points to help Notre Dame beat Syracuse in the quarterfinals of the Big East tournament, ending the Orange's bid for a third straight championship.
Colin Falls scored 23 points, including seven three-pointers, for Notre Dame (24-6), which finished fourth in the conference and received a first-round bye. Freshman Luke Harangody added 20 points.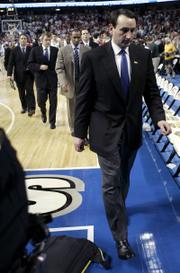 North Carolina St. 85, No. 21 Duke 80, OT
Tampa, Fla. - Freshman Brandon Costner scored a career-high 30 points and Engin Atsur had all 21 of his points after halftime, helping 10th-seeded North Carolina State defeat defending tourney champion Duke in overtime.
Duke (22-10) had won seven of the previous eight ACC tournament titles, including the past two.
North Carolina State (16-14) avenged a 23-point regular-season loss to Duke and beat its nearby rival for just the third time in the past 23 meetings between the schools. The Wolfpack advanced to Friday's quarterfinals against No. 2 seed Virginia.
LSU 76, No. 22 Tennessee 67, OT
Atlanta - Returning to the site of its victorious 2006 NCAA Tournament regional, Louisiana State rode Glen "Big Baby" Davis.
Davis scored 25 points with 15 rebounds as the Tigers earned the upset. Davis scored seven points in overtime, including a three-point play with 1:55 left that gave the Tigers a 71-67 lead.
No. 23 BYU 77, TCU 64
Las Vegas - Trent Plaisted scored 22 points, and BYU cruised past TCU in the quarterfinals of the Mountain West Conference tournament.
The top-seeded Cougars (24-7) also got nine boards from Plaisted and 16 points from Mike Rose.
No. 25 UNLV 80, Utah 54
Las Vegas - Kevin Kruger, a fifth-year senior who transferred from Arizona State to play for his father, UNLV coach Lon Kruger, scored 21 points as the Runnin' Rebels celebrated their return to the rankings.
The Rebels (26-6), ranked this week for the first time since the final week of the 1992-93 season, are seeded second behind regular-season Mountain West champion BYU.
Copyright 2018 The Associated Press. All rights reserved. This material may not be published, broadcast, rewritten or redistributed. We strive to uphold our values for every story published.