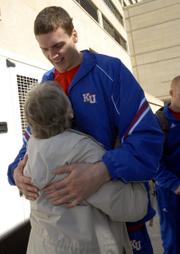 Lawrence bar owners are confident that the Jayhawks' appearance in the Big 12 Basketball Tournament will bring more fans to their establishments than the few that showed up to send the team off from Allen Fieldhouse.
Five enthusiastic fans, along with a dog, cheered the players as they boarded a bus Thursday for their trip to Oklahoma City.
Lawrence resident Loretta Gantenbein wished the team well, just as she has done for almost every road game since the 1988 National Championship season. Gantenbein said it takes "a lot" for her to miss "her boys'" comings and goings.
"I've been here at 2 in the morning, 4 in the morning. If we know they're coming, we'll be up here," she said.
Business owners said they were looking forward to this morning's KU game against Oklahoma. The 11:30 a.m. start bodes well for business.
Sean Gerrity, an owner of Henry T's Bar & Grill, 3520 W. Sixth St., said a KU game always packs the house.
"Business is easily double when there's a game on," he said.
While an early tipoff can be good for college students, it can be a disappointment for those who have to work.
Jan Mahlios, a teacher at Deerfield School, said she likely would miss the game.
"For people like me who have to work, it makes it very difficult to watch," she said. "We don't even have cable in the school."
On the other hand, her husband, Marc Mahlios, expects to see all of the game. He works at KU.
Copyright 2018 The Lawrence Journal-World. All rights reserved. This material may not be published, broadcast, rewritten or redistributed. We strive to uphold our values for every story published.