Photo Gallery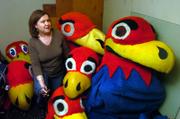 'Hawk horde
Rebecca Schulte leads the way through a maze of artifacts.
She arrives at a secluded room - formerly a projection booth - and unlocks the door. Behind it, bird-shaped heads, feet and bodies are strewn about like some kind of poultry processing plant.
"Here are the old Jayhawks and Baby Jays," Schulte says. "Sometimes we've actually used them to help us identify years of photos. If you look at these two Big Jays, you can see how their eyebrows are different."
The retired mascots are just one of many items ranging from the mundane to the eccentric that are housed at University Archives. The entire fourth floor of the Spencer Research Library - about 20,000 cubic feet of space - on Kansas University's campus is devoted to the collection.
"People don't typically think of archives at all. They don't really have a clue as to what would be here or what they could find," says Schulte, who has headed the department for three years.
Officially, the University Archives is the repository for the records documenting the history of KU. Much of the collection is in the form of photographs - more than a million of them.
There also is a vast horde of university publications, chancellor papers, records of student and faculty activities, blueprints and architectural drawings for campus buildings, books published about KU and films/videotapes of university events.
But more than occasionally, some atypical items are amassed.
"Collecting artifacts is not really our primary purpose, but things come to us, and we accept them," she says.
Schulte admits that with 142 years of "KU stuff" accruing, she also is responsible for destroying nearly as much as she preserves.
"The nature of an archive is you set up a schedule where particular records are destroyed after a certain amount of time," she says. "About 800 cubic feet of records come in each year, and about 800 go out."
The detail-oriented job is in her blood - literally. Schulte's uncle, John Nugent, was KU's first archivist.
A picture of the late Nugent hangs before the entrance to the stacks. Behind it lie a million more.
Copyright 2018 The Lawrence Journal-World. All rights reserved. This material may not be published, broadcast, rewritten or redistributed. We strive to uphold our values for every story published.