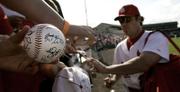 Mike Hampton is hurt again, and this time it has nothing to do with his arm.
The Atlanta Braves' left-hander injured his left side during batting practice and won't be ready for the start of the regular season.
Hampton, starting the seventh season of a $121 million, eight-year contract, will miss the rest of spring training and could be out as long as two months. The Braves had been counting on him to bolster a rotation that includes John Smoltz, Tim Hudson and Chuck James.
"I think I pulled it pretty bad," Hampton said Thursday in Kissimmee, Fla. "There's nothing you can do about it now except try to get it healed up and get it better."
Hampton was taking batting practice Wednesday at the Braves' complex while the team was playing the Detroit Tigers in nearby Lakeland. He fell to the ground in pain after a swing, prompting fears that he broke a rib.
X-rays were negative, and team doctors determined that he strained his left oblique, still a serious injury for a pitcher.
Hampton, who missed all of last season after elbow surgery, already was coming along slower than expected. Now, he isn't likely to return to the majors before May.
"I've heard anything from four weeks to six to eight weeks," Hampton said. "I guess I can officially say sand has been kicked in my face. I guess the only silver lining is my elbow will get a little more time to rest."
In Phoenix, the Oakland Athletics said Milton Bradley would play center field while Mark Kotsay recovers from back surgery Thursday, a process that could take up to three months.
"We'll have to deal with it," Bradley said. "I know he agonized over it the past couple of years. It's good he's taking care of it so he doesn't have to go out and play in pain."
In Jupiter, Fla., the St. Louis Cardinals said pitcher Josh Kinney needed elbow ligament-replacement surgery and likely will miss the entire season. After pitching three innings in a spring training game Monday, Kinney said he could not flex his arm fully.
"It just locked up on me after the game," Kinney said. "It stinks, because I was really looking forward to being a part of this clubhouse this year."
In Dunedin, Fla., Frank Thomas made his first appearance for the Toronto Blue Jays, going 1-for-3 with an RBI in a "B" game against the Philadelphia Phillies.
"I prefer to start late like this because you know what you're doing out there," said Thomas, who signed an $18.12 million, two-year contract. "You've had enough BP, enough cage work to know what you're doing out there."
Thomas is scheduled to be a designated hitter in Friday's 'A' game against Houston.
In other games:
Marlins 2, Dodgers 1
At Vero Beach, Fla., Derek Lowe and Anibal Sanchez both were sharp in a matchup of pitchers who threw the most recent no-hitters in both leagues.
Each pitched three strong innings, with the Dodgers' Lowe allowing no runs and the Marlins' Sanchez just one. Lowe gave up one hit and faced 10 hitters.
Sanchez, bidding to move up in the Florida rotation, made one mistake, hanging a 1-0 slider that Nomar Garciaparra drove to left for a homer.
Twins (ss) 1, Red Sox (ss) 0
At Fort Myers, Fla., Johan Santana bested Curt Schilling, striking out four in three scoreless innings, their second exhibition meeting this year. Schilling struck out four in four innings, allowing one run, two hits and one walk. He worked on a changeup, a pitch he's trying to add to his repertoire.
Red Sox (ss) 3, Blue Jays 2
At Fort Myers, Kyle Snyder gave up two homers during his first four batters, solo drives by Jason Smith and John-Ford Griffin.
Cardinals 2, Twins (ss) 1
At Jupiter, Fla., Randy Keisler pitched three shutout innings in relief of Kip Wells, who gave up six hits and no earned runs.
Yankees 5, Braves 3 (10)
At Kissimmee, Tim Hudson allowed one earned run during four innings and struck out three. Mike Mussina started for the Yankees and went three innings, allowing two earned runs.
Nationals 12, Astros 5
At Viera, Fla., Josh Wilson went 3-for-3 with two RBIs and two runs scored. The 25-year-old shortstop raised his batting average from .222 to .417.
Tigers 9, Reds 7
At Sarasota, Fla., Nate Robertson struck out five of his 11 batters, giving up one hit and two walks in 22â3 scoreless innings. Placido Polanco hit a solo homer in the first and Chris Shelton added a two-run drive in the third. Both were off Aaron Harang, who gave up seven hits and four runs in three innings.
Pirates 5, Devil Rays 2
At Bradenton, Fla., Devils Ray catcher Dioner Navarro strained a hamstring while running the bases in the seventh and was thrown out at the plate. He expects to miss a couple of days, but no more.
Indians 7, Phillies 6
At Winter Haven, Fla., after Shin-Soo Choo's two-run single in the ninth inning won it, Indians manager Eric Wedge said pitcher Cliff Lee's lingering abdominal injury hadn't gotten better and he wouldn't pitch for at least 10-to-12 more days.
Orioles 8, Mets 7
At Port St. Lucie, Fla., back on the mound after a bout was arthritis in his neck, Orlando Hernandez gave up five runs and six hits in just two innings. Adam Donachie hit a three-run homer as the Orioles took a 5-0 lead in the second.
Rangers 7, Athletics 6
At Phoenix, Sammy Sosa went 2-for-3 for Texas, raising his average to .467, and Nelson Cruz hit a two-run triple. Bradley tripled, singled and drove in a run.
Rockies 7, White Sox 4
At Tucson, Ariz., Chicago closer Bobby Jenks pitched an inning without tightness in his first appearance since Feb. 28. Jenks, whose 41 saves last season were third best in the AL, had left his first spring training appearance after nine pitches.
"I felt great out there, health-wise. There was no tightness, no soreness," he said.
Cubs 8, Padres 6
At Peoria, Ariz., Greg Maddux allowed two runs and five singles in three innings while striking out one and walking none.
Diamondbacks 10, Angels 7
At Tucson, Robby Hammock went 2-for-2 with a three-run homer, raising his batting average to .400 (4-for-10) with five RBIs in seven games.
Giants 10, Brewers 7
At Phoenix, Prince Fielder, who missed the first nine games with a right quadriceps strain, hit a homer in his spring training debut.
Copyright 2018 The Associated Press. All rights reserved. This material may not be published, broadcast, rewritten or redistributed. We strive to uphold our values for every story published.