Oklahoma City — Courtney Paris had 20 points and 14 rebounds, and No. 11 Oklahoma held off a second-half rally by No. 18 Baylor to win, 78-64.
Freshman guard Jenna Plumley scored 24 points for Oklahoma (25-4), which extended its winning streak against Baylor to six games over two seasons. Paris recorded her 57th straight double-double.
The Sooners and advanced to the title game Saturday against fifth-seeded Iowa State, which upset top-seeded and No. 13 Texas A&M; 57-51. It will be the fifth Big 12 title game for the Sooners, who won in 2002, 2004 and 2006.
Baylor (25-7) had reached the past two conference title games. All of Baylor's losses this season have come to ranked opponents. The Lady Bears have also lost twice to Texas A&M; and once to both Purdue and Nebraska.
Baylor trailed 61-59 with 5:59 left, but managed only two baskets after that as the 6-foot-4 Paris took over inside. When Paris returned to the game after a stint on the bench due to foul trouble, she keyed the Sooners with three baskets in a 3-minute span that pushed their lead to 65-59 with 4:01 left.
Up by eight points with 1:35 left, the Sooners went 9-of-11 from the free-throw line to seal the win. Two Baylor players, Jessica Morrow and Latara Darrett, were called for technical fouls in the final 1:02.
Iowa State 57, No. 13 Texas A&M; 51
Oklahoma City - Lyndsey Medders did everything she could to get Iowa State into the Big 12 tournament semifinals. She was just fine with her teammates pushing the Cyclones to the next level.
Heather Ezell and Alison Lacey scored 11 points apiece and Iowa State used a late run with Medders on the bench to beat No. 13 Texas A&M; 57-51 Thursday night and advance to the Big 12 championship game.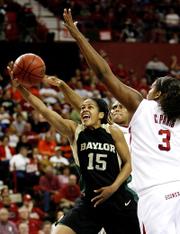 The Cyclones (25-7) outscored the top-seeded Aggies 8-1 while Medders was saddled with foul trouble, breaking a late tie to advance to the conference title game for the first time since they won Big 12 championships in 2000 and 2001.
"I'll be the biggest cheerleader whether I'm playing or sitting," said Medders, Iowa State's leading scorer.
As Medders looked on, Nicky Wieben hit a turnaround jumper in the lane to put Iowa State up 49-47, and the Aggies (24-6) didn't get another field goal the rest of the way - repeating a 6-minute drought that cost them in a 61-54 loss at Iowa State on Feb. 14.
Toccara Ross followed Wieben's basket with a jumper in the key and - after a free throw by Texas A&M;'s La Toya Micheaux - Ezell added a floater in the lane. Ross' layup off a backdoor cut pushed the lead to 55-48 by the time Medders checked back in with 2:15 left.
A night earlier, the fifth-seeded Cyclones needed 27 points from Medders - including a tying three-pointer to force overtime - to beat Nebraska in the quarterfinals.
This time, Cyclones assistant Latoja Harris encouraged Medders' teammates to pick her up.
Copyright 2018 The Associated Press. All rights reserved. This material may not be published, broadcast, rewritten or redistributed. We strive to uphold our values for every story published.