Another year means another increase in money that local hospitals lose in providing health care to people who are unable to pay their bills.
Costs for uncompensated care - defined as either bills that emergency room patients are unable to pay or bills sent to patients who are expected to pay but haven't - puts a growing financial strain on at least two area hospitals.
For the hospitals, the growth in uncompensated care costs means they could lose money available to pay for building improvements and equipment. For patients, either insured or uninsured, the spike in uncompensated care becomes one factor in why the patient's financial responsibility for a hospital bill continues to grow.
Kansas University Hospital had nearly $81 million in uncompensated care for the fiscal year 2006. KU officials project it will spend $97 million in medical costs by the end of the 2007.
"It's about a 14 percent increase over what we had budgeted," said Bill Marting, vice president of financial operations for the hospital.
Meanwhile, Lawrence Memorial Hospital paid nearly $17 million in uncompensated care in 2006, a 22 percent increase from 2005.
Simon Scholtz, LMH chief financial officer, hasn't made a projection on uncompensated care for 2007. "We sure don't expect it to level off," he said.
"When we do have a positive bottom line, we use that to fund future capital," Marting said. "As your bottom line becomes less and less, you have less ability to do that."
In 2006, revenues exceeded the amount the hospital lost to uncompensated care as the hospital recovered a net income of $72 million.
Driving force
At LMH, the majority of uncompensated care comes from bad debt - patients who don't pay their bill.
Scholtz said even for insured patients, the portion of the hospital bill they're responsible for becomes difficult to pay, contributing to bad debt.
It's also becoming less affordable for employers to provide health insurance as a benefit to employees.
In 2000, 69 percent of employers in Kansas offered health insurance to workers. That has since dropped to 61 percent, according to Rep. Jeff Colyer, R-Overland Park.
Colyer, chairman of the Kansas House Republican Task Force on Health Care, said the burden of uncompensated care costs that hospitals have to shoulder makes commercial health insurance pricier, which is why businesses find it harder to offer benefits to employees.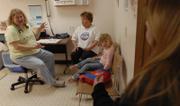 "It makes the commercial side more expensive, which means businesses drop out, which means more people get on Medicaid," Colyer said. "We're going in exactly the wrong direction and have been for the last five years, and one of the stressors is what we've seen in the hospitals."
Government reimbursement to hospitals for uncompensated care through Medicare and Medicaid doesn't come close to covering the costs, according to hospital officials.
"It's nowhere near the full cost," Marting said. "There's still a large amount that is totally unreimbursed."
What's being done?
Health care has become one of the major issues in Kansas Legislature this session. Gov. Kathleen Sebelius made a plea in her State of the State address to lawmakers to work toward universal health coverage.
The Legislature appears headed in another direction.
The Kansas House Republican Task Force on Health Care hatched a four-part health care plan Monday that would try to drive down the number of uninsured patients by increasing private sector health insurance plans and programs, rather than increasing reliance on government programs.
But even Colyer concedes solutions won't be quick or easy.
Hospitals have found some help in local safety net clinics that can provide some services to completely uninsured patients in need of medical care.
In Douglas County, where an estimated 12 percent of residents have no health insurance, one example is the Health Care Access clinic. There, physicians contribute services to uninsured visitors.
"The physicians are donating sometimes the entire procedure," said Nikki King, executive director of Lawrence's HCA. "Sometimes they will work out a very modest payment."
But the clinic, which gets most of its funding from in-kind services, reaches about one-tenth of the number of Douglas County residents who don't have private health insurance and don't qualify for government assistance.
A similar program emerged in Wyandotte and Johnson counties near the KU Hospital.
The WyJo Care program provides some specialty care services for uninsured patients with the hope that it will reduce the number of emergency room visits to hospitals, and perhaps help blunt escalating uncompensated care expenses.
WyJo Care relies on physicians who pledge to provide a certain number of visits and procedures with uninsured patients.
"For the hospital, (uncompensated care) is a big expense," said Mary Redmon, an assistant clinical professor in family medicine for KU School of Medicine. "If we can spend a little money up front as a donation, it's going to save a lot of money in emergency rooms in all our community hospitals."
Nevertheless, local hospitals continue to see not only uncompensated care costs rise but also the price of providing care increase overall.
Scholtz, LMH's CFO, said the hospital has tried expanding the number of services it provides to patients in general as a way to increase streams of revenue.
LMH has also found other ways to make money. For example, the Lawrence City Commission last year approved hospital revenue bonds for LMH - 30-year fixed-rate bonds sold based on the hospital's credit rating - to help pay for a $40 million expansion, along with a fundraising campaign.
But the hospital can't refuse emergency care to patients who can't pay for their health care, meaning the burden of uncompensated care will remain.
"The only other option," Scholtz said, "is to try to manage our expenses more tightly."
Copyright 2018 The Lawrence Journal-World. All rights reserved. This material may not be published, broadcast, rewritten or redistributed. We strive to uphold our values for every story published.