A long-standing disagreement between the city of Lecompton and a property owner about his yard was kick-started Wednesday.
"I'm a recycler," Michial Coffman said.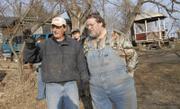 But Lecompton city officials and staff members see it differently.
So Wednesday morning, a group of city officials and staffers arrived at Coffman's 4-acre tract with a contractor - to plan how to clean up numerous items, including lumber, wire, metal tires, concrete, metal and machinery.
The city even obtained a court order, saying it has the authority to clean up the property. The court order, signed by Douglas County District Judge Jack Murphy, further says Coffman cannot add "general junk" to his yard.
The dispute between Coffman and the city has continued for about eight years.
Lee Hendricks, the city's attorney, says the city has repeatedly tried to work with Coffman, who has lived at 645 E. Second for more than 20 years, but he has not complied with all requests.
"If anything else, it's our mistake for letting this go on for as long as it has," Hendricks said.
Coffman, who is known around the area for making meals out of deer struck by vehicles on county roads and highways, calls it a "conspiracy" and said every time he attempts to clean up and organize his property, the city continues to come after him.
Hendricks disagrees.
"(Coffman) will pick up a little bit, but he won't do everything that we ask for," he said.
Murphy signed the order that was filed in November that said Coffman has failed and refused to comply with the city's ordinance.
After a miscommunication with city staff, the removal company on Wednesday only inspected the land - instead of starting work - and it now will begin at a later date, Hendricks said.
Coffman had written a letter to Murphy in September and claimed that his property was valuable and not junk.
Coffman also mentioned a time in October 2004 when he was out of town and a city crew dug a pit on his property and bulldozed and burned items that included an antique soda machine, solar water heaters, parts of a disassembled glass and metal greenhouse, cedar lumber and a propane tank.
Joe Blubaugh, a Kansas Department of Health and Environment spokesman, said the state has mandated that the city remove the burned waste. Lecompton has been cooperative, and KDHE has not ordered a specific deadline, he said.
Hendricks said the city will pay to remove that waste from the property. In Murphy's order, Coffman was to pay for the cost of cleanup. He was also to be prohibited from letting other items build up in the yard, such as leaves, refuse, appliances or vehicles.
But Coffman maintains the property contains items that can be of use to him and others, such as metal and other parts.
"I'm a fun-lovin' hillbilly, and all I want to do is just be left alone," Coffman said.
He injured his back several years ago in a vehicle accident and lives on disability payments. He said he was leaving the state today to be with family members. And when he returns, it's possible his 4 acres will look different.
"This order doesn't say he has to be there," Hendricks said.
Copyright 2017 The Lawrence Journal-World. All rights reserved. This material may not be published, broadcast, rewritten or redistributed. We strive to uphold our values for every story published.