It's becoming a mustard pilgrimage of sorts.
The past two years, Rick Martin has driven 500 miles to Mount Horeb, Wis., to buy about 500 jars of mustard from the Mount Horeb Mustard Museum.
Martin, chef at Free State Brewing Co., 636 Mass., used to order the mustard online for his restaurant's March Mustard Madness, which features around 40 different varieties of the condiment to serve mainly on sandwiches, French fries and onion rings.
But now, Martin is taking the ordering to a new level.
"I've got it refined," he says. "It's nice to be able to taste them if you're going to buy 500 jars of mustard."
There isn't much to making a simple mustard - just mustard seed, vinegar and water.
It's the add-ons that separate the 500 varieties the Mount Horeb museum sells. There are barbecue mustards, curry mustards, garlic mustards, kalamata olive mustard, cranberry mustard, tangerine-habañero mustard and even a chocolate-merlot mustard.
"It's a great pretzel dip," Barry Levenson says of the last item. "It gives you the bite of mustard, but it also could be used over ice cream."
Levenson calls himself the CMO - that's chief mustard officer - for the museum. A former assistant attorney general for Wisconsin, he founded the site in 1986 when looking for ways to cope when his beloved Red Sox lost in the World Series.
In addition to the 500 varieties the museum sells, Levenson has a personal collection of 4,700 different types of mustard on display.
"There's a lot of bizarre stuff from all over the world," he says. "Most people think there's yellow, brown and maybe Grey Poupon mustards. But there's a whole world out there of great mustards, with great flavors."
He says sweet, hot mustards are among the most favored, in part because they're good for pretzel-dipping. But others such as fruit mustards are gaining in popularity.
Mustard pairings
Levenson says the trip made by the folks at Free State is "a little unusual."
"Those guys really know their mustard," he says. "They have a really good palate when it comes to mustard."
Martin has a little advice when it comes to mustard-food pairings.
"There are a lot of contrasts you want to pay attention to," he says. "I think the food has to be pretty plain to handle a mustard pretty well."
Photo Gallery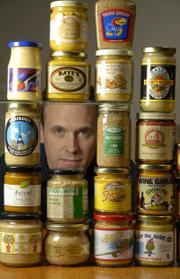 Mustard madness
That makes foods such as sausage, pork chops and corned beef and cabbage prime options for a good mustard. And he says he's surprised how many patrons dip their onion rings in the condiment.
The most popular varieties at Free State tend to be spicy mustards, made of jalapeños or horseradish. Martin prefers simpler kinds.
"I like mustards with a little more finesse," he says.
Mustard fans
Free State isn't the only business in Kansas and the Kansas City metro area to take advantage of the mustard madness.
Grandma's Homestyle Mustard has been available in Peabody for 13 years, owner Mike Berger says. It offers both a mild jalapeño mustard and a sweet mustard.
"We've had several customers come from car clubs that travel across the U.S." Berger says. "They all pile up, and when they get out, we'd better be stocked up."
Berger also owns the Sausage House in Peabody, which is about 55 miles southwest of Emporia.
"A lot of our meat products is what we tend to suggest our mustard for," he says. "With the polish sausage or bratwurst, it works real well."
Boulevard Brewing Co., located in Kansas City, Mo., also got into the mustard business about five years ago. It partnered with Garden Complements, another Kansas City company, to make a mustard that uses the brewery's Pale Ale beer instead of water.
"We wanted a product that beer would actually make a difference in how the mustard tasted," says Bob Sullivan, vice president of Boulevard. "They used Pale Ale in lieu of water, and it left a distinct characteristic in the mustard."
It's also available at Royals games at Kauffman Stadium.
"People like it," Sullivan says. "It was not really designed to be a profit center for the brewery. It's more an extension of our branding. It's like cross-merchandising. It always help to extend your logo to other places other than where you expect to see it."
'Bad mustards'
While there's not much to the ingredients of mustard, Free State owner Chuck Magerl says it can be a little temperamental. For example, adding peppers that are spicier than you expected could end up making mustard that's too hot for even brave taste buds.
"Lots of people make salsa at home," Magerl says. "Mustard's probably something you have to pay a little more attention to, even to get a little batch."
Even Martin admits there are some mustards that "are just bad." Some use flour to get a certain consistency, and others go old after they sit on a loading dock too long.
But for those looking for a good mustard, the Mustard Museum's Levenson has a few you can pick from. And he has other ways for you to celebrate a love of mustard.
"We even have a mustard college," Levenson says. "It's call Poupon U. It's a fictitious college, but we have a fight song."
Copyright 2018 The Lawrence Journal-World. All rights reserved. This material may not be published, broadcast, rewritten or redistributed. We strive to uphold our values for every story published.