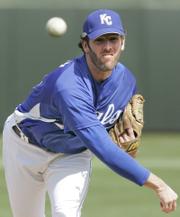 Surprise, Ariz. — Sammy Sosa hit his first home run of spring training and the Texas Rangers beat the Kansas City Royals 5-0 on Sunday.
Sosa, who has 588 career homers, drove a 1-1 pitch from Luke Hudson over the left-center fence to lead off the second inning. It was Sosa's first home run since Aug. 4, 2005, when he was with the Baltimore Orioles.
Sosa did not play last season and signed a minor league contract with the Rangers during the offseason.
"It was good to get the first one out of the way," Sosa said. "That was huge for me. Everyone wanted me to do that."
Hudson, penciled in as Kansas City's No. 3 starter, did not.
"I just left it up right in his wheelhouse," Hudson said. "I couldn't have placed it any better for him and he hit it well. It was a terrible pitch."
Sosa struck out and flied out in his other two at-bats. He started in right field after being the Rangers' designated hitter Saturday and in a "B" game on Friday.
"After Friday, Saturday and today, I feel a lot more relaxed," Sosa said. "I feel physically stronger."
Ian Kinsler hit a two-run homer in a three-run fifth inning against Zack Greinke, who gave up four hits in two innings.
Brandon McCarthy struck out four in two innings in his Rangers debut. McCarthy and four Texas relievers combined to hold the Royals scoreless with only three singles. Kansas City entered with a .343 team batting average this spring.
"I was working on locating my fastball," McCarthy said. "I was satisfied with my location. That's as good as I can throw as far as location. Location is the key."
¢Grudzielanek out: Royals second baseman Mark Grudzielanek will have arthroscopic surgery on his left knee Monday and is expected to begin the season on the disabled list.
Grudzielanek has a medial meniscus cartilage tear.
"In the worst-case scenario you're looking at four to six weeks," general manager Dayton Moore said. "He will probably miss the first 10 days or two weeks of the season. We're optimistic it will be just a simple clean up. If there is a positive out of this, it is it has happened the first week of spring training versus the last week of spring training."
Grudzielanek said he first experienced knee pain Friday night and reported it to the training staff Saturday. An MRI exam on Sunday discovered the tear.
"It just happened," he said. "It kind of just came up. It wasn't because I turned too hard or anything like that. It was just weird."
Grudzielanek will have surgery in Kansas City. Once he is cleared to travel, he will return to spring training camp in Surprise to begin rehabilitation.
The 36-year-old Grudzielanek hit .297 and won his first Gold Glove award last season, his first with the Royals.
He had a .994 fielding percentage with only four errors and led AL second basemen with 111 double plays.
Manager Buddy Bell said Esteban German likely would start at second base until Grudzielanek returns.
Copyright 2018 The Associated Press. All rights reserved. This material may not be published, broadcast, rewritten or redistributed. We strive to uphold our values for every story published.