Miami — All of a sudden, it's a race.
Not at the bottom of each conference's playoff standings, but in the Rookie of the Year standings.
At the start of the season, Brandon Roy's injury problems and a lack of playing time for Andrea Bargnani and Randy Foye left Adam Morrison looking like the default winner of the award.
After letting matters shake out for a few months, Morrison not only has legitimate competition but may have fallen to third in a three-man sprint to the finish.
After missing 20 games with a bad foot, Roy has shown why he was one of the most coveted guards in last year's draft. He is easily the most polished of the group, and his ability to either score or create has made Portland a tricky opponent this season.
Roy leads all rookies in scoring and assists and is often the point man in the Blazers attack, particularly in late-game situations.
"Morrison has had some good games, but for us, Brandon has been the difference in about 10 to 15 games," Blazers coach Nate McMillan said in comparing Roy to Morrison. "Probably three of those games we didn't win, but he was able to get us into overtime with a shot or his play. There have been a number of games he has been a difference-maker. I hope the national media is paying attention."
In his two head-to-head meetings with Morrison, Roy outplayed his fellow Rookie of the Year candidate, following a 15-point, eight-rebound game on Feb. 9 with a near triple-double (14 points, nine assists, eight rebounds) on Thursday.
Morrison's shooting percentage (.381) for the season probably has dropped his standing in the race, while Roy is getting endorsements from some of his distant competition.
"If I had a vote, it would definitely be Brandon," said fellow rookie Rudy Gay of the Grizzlies. "He has a lot in his game right now, and he's going to get so much better, so much stronger. I like his in-between game. When he gets the ball from free-throw line in, it's hard to stop him."
Bargnani, though, is gaining some momentum on Roy. The No. 1 pick in last year's draft didn't start getting steady minutes until three weeks into the season, but he has been improving since.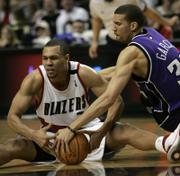 In February, the 7-foot Raptors reserve averaged 14.3 points on 51 percent shooting from the field and 48 percent from three-point range. The Raptors went 9-3 for the month and vaulted themselves into a healthy playoff position.
Raptors coach Sam Mitchell has helped Bargnani get used to the physical nature of the NBA game. Earlier this season, Mitchell brought his big men together during an off day in Denver.
Mitchell placed a basketball under the basket and lined his big men up in pairs. Mitchell told one player to retrieve the ball, while the other was assigned to not allow it to happen. It was supposedly done to test the toughness of the No. 1 draft pick, and it turned out to be a two-hour wrestling match.
If it helps Bargnani's inside game match his outside game, he could be a budding Dirk Nowitzki.
As for this season, he'll still need a late push to make up for the suddenly narrow gap between him and Roy.
Bargnani could benefit, however, from his team's success. While team record doesn't often affect Rookie of the Year voting, it has in the past. In the 2002-03 season, many thought the Heat's Caron Butler had the best rookie season. But Butler still finished third, with Amare Stoudemire winning it over Butler and Yao Ming in large part because he led his Suns team to the playoffs that season.
Roy not only plays for a somewhat insignificant Blazers team, but he is on the West Coast and doesn't get much national airtime. Bargnani's Raptors, meanwhile, have been one of the Eastern Conference's hottest team and are becoming a lock for an Atlantic Division title and a top-four playoff seed.
If Roy really wants to lock up the award, he could get his team in serious playoff contention. No one outside the Northwest has probably noticed, but the Blazers are actually within a few games of the No. 8 seed out West.
"I try not to think about it," Roy said of the award. "It could be a distraction, added pressure I don't need right now. The team is doing good. People are saying, 'playoffs.' That's what I'm trying to work on."
Copyright 2018 The Lawrence Journal-World. All rights reserved. This material may not be published, broadcast, rewritten or redistributed. We strive to uphold our values for every story published.