Photo Gallery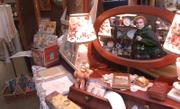 Pilot Club Antique Show and Sale
For one weekend, a building at the Douglas County 4-H Fairgrounds was turned into an Old World bazaar, with knickknacks and glass goods spread on tables throughout the building.
The Pilot Club of Lawrence Antique Show and Sale, which started Friday and ran throughout the weekend, wrapped up Sunday with virtually all the vendors praising the event and the people who came out to purchase or browse.
Flo Holland spends her days working at an antiques mall in Kansas City, Mo. But seven to 10 times per year she goes out to shows and sells her "depression glass, pattern glass and junk."
"What makes a show successful is realizing the customer comes first," Holland, of Kansas City, Kan., said. "Everyone collects something different. If you like it, then you can take it home and enjoy it."
Glassware and "junk" were just two items on display. Other vendors had quilts, jewelry, plates, baskets, prints and postcards. Ron and Mary Ann Potter, of Blue Springs, Mo., said their Kansas and KU postcards proved to be popular sellers.
The Potters have been coming to the Lawrence show twice a year for at least the last 12 years.
"All the dealers are nice. The customers are nice," Mary Ann said.
"The Pilot Club food is wonderful, too," Ron chipped in.
The Potters said it takes them about six hours to get their booth completely set up, but only about two hours to tear everything down to take it home.
Copyright 2018 The Lawrence Journal-World. All rights reserved. This material may not be published, broadcast, rewritten or redistributed. We strive to uphold our values for every story published.