Finally!
Nearly a month after Kansas University's baseball squad was scheduled to play its original home opener, the Jayhawks finally took the field at Hoglund Ballpark on Sunday - in a doubleheader against Western Illinois.
"We certainly needed that. We certainly needed to be on our own field. There's no doubt about that," KU coach Ritch Price said after KU's 15-5, 6-3 sweep of Western Illinois. "Baseball's such a game of routine, and you have to play at game speed. No matter what you do (in batting practice), you have to be in a box and see plus-velocity to handle it."
Kansas catcher Buck Afenir made the most of the home opening doubleheader.
Afenir, who had a .222 batting average and a slugging average of .444, was a combined 3-for-5 with five runs batted in off two home runs - including a grand slam over the left-field wall in the fourth inning of game one. His performance bolstered his average to .304, and he is now slugging .739.
"It was nice to kind of break out, and it was just nice to get back on our field and have a good day," Afenir said. "Today I came out with a lot more confidence, and I think that it worked for me."
The inning after Afenir's grand slam, Preston Land and Erik Morrison hit back-to-back home runs - Land's a two-run shot - as part of a seven-run inning. Brock Simpson added the second of his two triples for the game.
"It feels great. I've been struggling a lot lately but stayed confident, and all my teammates stayed confident in me and came out and got it going," said Simpson, who went 4-for-6 after hitting just once in his last 31 at-bats. "It's very contagious when you get a couple of guys on and Brock coming up with a big home run - there's four runs on the board. That's contagious. People start getting on and getting big hits."
Photo Gallery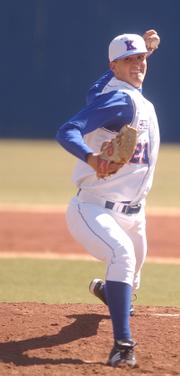 KU baseball vs. Western Illinois
Morrison came up just a triple shy of the cycle in the first game. In his final at-bat - still needing a triple - Morrison hit shot that bounced off the wall with John Allman and Land on base. But the carom was strong enough that Price held Land at third, leaving Morrison 90 feet away from his cycle.
"I was going for it," Morrison said. "I wanted the cycle."
Zach Ashwood had a solid start to the game in a winning effort on the mound. He fanned a season-high nine batters.
But in the top of the sixth, the Leathernecks put up four runs on Ashwood. Thomas Marcin came in to close out the final two innings, relinquishing just one hit and striking out one.
In the afternoon game, the Kansas offense dipped a bit from its first outing - putting up just six runs and failing to score in the final three innings.
Land hit his second home run of the day to lead off the fifth inning.
While the offense slipped, so did the defense as KU was charged for five errors, four of them from middle infielders Morrison (2 errors) and Ryne Price (2), who wound up with three errors in the day games while batting 2-for-7 with two runs scored.
"That's the first time obviously we've taken ground balls on our infield - and we still have more work left to do," Ritch Price said about an infield that had new dirt poured during winter.
All three of the Leathernecks' runs scored were unearned because of errors and not charged to Kansas' starting pitcher Nick Czyz (2-1), who claimed the win in five innings of work.
The pitching was strong after Czyz, with Andres Esquibel holding Western Illinois to just one hit over the next three innings and Paul Smyth striking out the side in the ninth to pick up his third save of the season.
KU will be back out at Hoglund to play Tabor College at 4 p.m. on Tuesday followed by a home game at 5 p.m. on Wednesday against Baker.
¢Return of righties: Western Illinois' visit to Lawrence brought the return of two area pitchers: Lawrence High graduate Aaron Madill and Ottawa native Andrew Maxwell, a pair right-handeders for the Leathernecks. Madill never took the field, while Maxwell got a plate appearance in the final inning of game two. However, it wasn't a triumphant return, as Maxwell struck out swinging on three straight pitches.
Copyright 2017 The Lawrence Journal-World. All rights reserved. This material may not be published, broadcast, rewritten or redistributed. We strive to uphold our values for every story published.