Kenny Rogers, the much-maligned left-hander who pitched 23 straight scoreless innings in the 2006 postseason, gave up two runs - one earned - and three hits for Detroit in a 7-4 victory over the Cleveland Indians at Winter Haven, Fla.
After tossing two innings in his first start of the spring, he spent an hour signing autographs and chatting with fans before heading to the clubhouse.
"It's a beautiful day. I'm content and having the most fun ever," said the 42-year-old Rogers, preparing for his 19th major league season after leading the Tigers to the World Series last year.
"I've changed my spring approach to not being concerned about getting people out," he said. "I work on getting one pitch refined, then another, then another."
Rogers struggled a bit with his command. He hit one batter with a pitch and walked another in the first inning. He gave up two hits and a second run in the second, but avoided more trouble by getting Grady Sizemore to hit into a double play.
"I just didn't know where my pitches were going," Rogers said.
At Tucson, Ariz., the Diamondbacks turned a triple play and beat the Seattle Mariners 6-4 in a split-squad game - the second triple play in two days at spring training.
With runners on first and second and none out in the second inning, Michael Garciaparra lined Edgar Gonzalez's pitch to shortstop Stephen Drew. He stepped on second base to retire Mike Morse, then threw to first baseman Tony Clark to get Michael Wilson and complete the triple play.
"It was amazing," Gonzalez said. "It's the first time in my life I've been in the game" for a triple play.
Yet it was the second triple play in Tucson in two days. The Los Angeles Angels turned one against the Colorado Rockies at Hi Corbett Field on Saturday.
"I just reacted," said Drew, who had never seen a triple play in person. "It happened so quick. It was a unique thing."
In other news, Royals second baseman Mark Grudzielanek will have arthroscopic surgery on his left knee Monday and is expected to begin the season on the disabled list.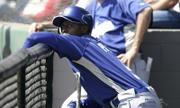 Red Sox 6, Twins 1
At Fort Myers, Fla., it was Johan Santana vs. Curt Schilling. Sounded like a potential matchup for Game 1 of a playoff series.
Both aces were effective. Making his first start of spring training, Santana allowed one run and three hits in two innings. The two-time AL Cy Young Award winner walked three, struck out two
Yankees 10, Phillies 5
At Clearwater, Fla., Carl Pavano took a big step forward by simply staying healthy.
The oft-injured Yankees pitcher allowed one run, two hits and two walks in two innings during his first spring training start. The right-hander was on the mound eight days after his left instep was bruised by a line drive during batting practice.
Reds 10, Pirates 4
At Bradenton, Fla., Scott Hatteberg hit a two-run homer off Pittsburgh starter Shawn Chacon, and Josh Hamilton had two more hits. Reds infielder Jeff Keppinger broke the ring finger on his right hand when he was hit by a pitch in the fifth inning.
Astros 9, Nationals (ss) 2
At Kissimmee, Fla., Jason Lane went 2-for-3 with an RBI double and a walk. He is batting .363 with two homers and three RBIs this spring as he faces a crowded competition for the right-field job.
Cardinals 12, Marlins 3
At Jupiter, Fla., Anthony Reyes pitched two scoreless innings and the defending World Series champions got two hits apiece from Albert Pujols and Scott Rolen.
Blue Jays 7, Devil Rays 4
At St. Petersburg, Fla., Jae Kuk Ryu limited Toronto to a single in two shutout innings.
Orioles 6, Mets 3
At Fort Lauderdale, Fla., Melvin Mora drove in four runs with a pair of doubles.
Nationals 6, Dodgers 2
At Viera, Fla., Matt Chico pitched three shutout innings for Washington.
Braves 4, Dodgers (ss) 1
At Vero Beach, Fla., Chuck James allowed one run and three hits in two innings for Atlanta.
Athletics 4, Padres 3
At Peoria, Ariz., Greg Maddux was missing his pinpoint control during his San Diego debut, but he was still pretty effective.
White Sox 13, Cubs 2
At Mesa, Ariz., Paul Konerko hit two solo homers, Jermaine Dye added a three-run shot and Jon Garland pitched three scoreless innings.
Giants 5, Mariners (ss) 4
At Scottsdale, Ariz., Kevin Frandsen homered off Seattle starter Jeff Weaver and drove in three runs. Barry Bonds stayed home with the flu.
Angels 5, Brewers 4
At Tempe, Ariz., Kelvim Escobar pitched two scoreless innings, allowing only a single for Los Angeles.
Copyright 2018 The Associated Press. All rights reserved. This material may not be published, broadcast, rewritten or redistributed. We strive to uphold our values for every story published.