Lon Akerberg claims a sailing background that predates him by generations.
He says his Norwegian blood makes him a sailor by birth, and his childhood spent in and around the water did nothing to dilute it.
And though he has sailed most of his life, everything else on the water was mere precursor to what he did last summer: cross the Atlantic Ocean by sailboat.
"By far, this was the biggest. We'd never crossed an ocean before," said Akerberg, who last June made it across the pond with his wife, Lynn; his brother, Jan; and a friend, Alex Asbury. "We had only done overnight sails. I used to live in Florida, and we sailed to the Bahamas. We used to sail at night to make daylight landfall. And we had a boat in the Virgin Islands. So we'd been into doing a lot of sailing, but never something like this."
All told, the Akerbergs' journey lasted four months. The trans-Atlantic leg lasted 12 days.
After that, they kicked around three weeks in the Azores Islands, then spent a couple of months on the Portuguese mainland.
"We were living on the boat the entire time," Lon Akerberg said. "We weren't sailing the whole time, but we'd do some day sailing. And we didn't stay in a motel the whole time."
It was the culmination of years of planning.
He retired from his career of selling external defibrillators two years ago at the age of 55.
"I retired so we could do this," Lon said from his rural Lawrence home. "We had a goal. My wife and I were saving for this. We set a date. We didn't want to be doing this when we were 75 years old. We wanted to make this something we're doing for a couple of decades."
Anchors away
The 46-foot "Mascot" left the fabled boating town Lunenburg, Nova Scotia, on June 21, and the four-person crew didn't see land again for nearly two weeks.
"I would say it's hard to explain," Lon Akerberg said. "When you're out in the middle of nowhere, you just have : feelings go through your mind. You can't explain them. There are days you : there were days we didn't want to be out there, and days we just loved it. Overall, I can't wait to do it again."
The journey wasn't without its challenges.
Though "Mascot" left Lunenburg - a historic sailing town that's a popular departure spot for many trans-Atlantic crossings - under sunny skies, before long fog rolled in. And stayed for three days.
And the crew encountered a serious storm, unusual for June, that lasted the better part of a day and packed winds that gusted up to 50 knots - close to 60 mph.
"I was looking at the waves, and they were monstrous," Lon Akerberg said. "I'm not a good judge of wave height, but I'd guess 40 foot isn't an exaggeration."
Though the blow led to some dicey moments, Akerberg considers it among the trip's highlights.
"A well designed boat will handle an unbelievably strong wind and huge waves," he said. "That was a highlight. It wasn't fun in it, but next time, we'll be able to handle it that much better, enjoy it a little more, instead of always having to be on our A-game. Maybe we'll sit back and have a glass of wine."
'It's been fabulous'
Akerberg's other highlights were considerably more tame.
"Dolphins visited us every day," he recalled. "Whoever was on shift would yell, 'Incoming dolphins.' They'd fly, like a race to get to the boat. : One day - we were becalmed two days and just sat there like a cork on the ocean - we swam with the dolphins. The water was crystal-clear all the way."
Photo Gallery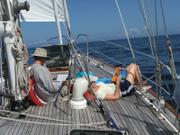 Atlantic crossing
Much to Akerberg's surprise, they also were visited frequently by birds, even when land was nowhere to be seen.
"There were birds all the way across the Atlantic," Akerberg said. "Seagulls, albatross, storm petrols : there were always birds around us."
"Mascot" currently is sitting in port in Lagos, Portugal. This spring, the Akerbergs plan to fly there, then sail up to Morocco and finally to Valencia, Spain, for the America's Cup.
"It's the oldest sport in the world," Akerberg said. "Older than soccer. After that, we'll winter (the boat) somewhere on the Mediterranean coast of Spain or France. We'll go back after this coming Christmas. We plan to spend about six months this coming year on it. We're just playing it by ear, taking it one step at a time. Really, it's been fabulous. It's been a treat to see other cultures."
Akerberg scoffs at the notion that trans-Atlantic voyages are anything but safe.
"We're kind of terrified in general of the ocean because of movies like 'Jaws' and 'A Perfect Storm,'" he said. "But it's a very gentle, safe place. : I really believe sailing an ocean is safer than driving a car."
Copyright 2018 The Lawrence Journal-World. All rights reserved. This material may not be published, broadcast, rewritten or redistributed. We strive to uphold our values for every story published.