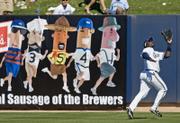 Phoenix — It's hard to find Milwaukee Brewers center fielder Bill Hall.
He's up early, hitting in the batting cage. Then, he's working on catching towering pop flies in the wind. Later, he's practicing his technique of breaking from first base for steals.
Fresh off signing a $24 million, four-year contract last month, the franchise's largest ever for a position player, Hall is out to prove himself again. And he's making a position change to boot.
"My role has already sunk in. I know what I need to do to help this team win," Hall said. "I still don't think the contract thing has sunk in yet."
The biggest thing Hall has done with his money so far is make good on a promise to his mother, Vergie, who was in the crowd when he hit a game-ending homer on Mother's Day last year with a pink bat.
The catch? He made the promise when he was 5.
"I told her I was going to be a major league baseball player and I was going to build her a house," he said. "I'm working on the second part of it."
Hall, praised for his versatility as he made his way up through the organization, played mostly shortstop, third base and second base for Milwaukee the past three seasons. But his offensive breakthrough came last year as one of only five players in the majors with 35 doubles and 35 homers. The others were all big-name, big-money All-Stars: Carlos Beltran, Carlos Lee, Aramis Ramirez and Alfonso Soriano.
Hall, the only player on that list who hasn't been an All-Star yet, has plenty of work cut out for him this spring because all three of Milwaukee's outfielders are changing positions this year.
The Brewers plan to move Geoff Jenkins from right field back to left, where he played most of his career. The team's longest-tenured player, Jenkins is in the last guaranteed year of his contract and hopes to play full-time rather than platoon with Kevin Mench or others. Jenkins struggled last season and was benched.
Corey Hart will be in Jenkins' old spot in right, and manager Ned Yost said Hart will get 400-500 at-bats while playing nearly every day.
All three have struggled with the conditions so far, but Hall feels as though he's got the most trying situation.
"Those guys have been out there for years," Hall said. "Jenkins played left pretty much his whole career, so he's probably going to feel natural back over there."
But Hall acknowledged it's a learning experience for all of them.
"It's going to be a long spring training," he said. "I'm just trying to make my mistakes down here."
Copyright 2018 The Associated Press. All rights reserved. This material may not be published, broadcast, rewritten or redistributed. We strive to uphold our values for every story published.