CHAPEL HILL, N.C. — Blood poured from his nose and onto his lip, chin and the court. The latest bruised face of college basketball's nastiest rivalry belongs to North Carolina's Tyler Hansbrough.
"Just a little bump and bruise," teammate Reyshawn Terry said. "Nothing that a little ice can't handle."
Hansbrough had 26 points and 17 rebounds before suffering an injury that looked worse than it really was in the closing seconds of the No. 8 Tar Heels' 86-72 win over 14th-ranked Duke on Sunday, clinching the top seed in the Atlantic Coast Conference tournament.
Terry added 15 points in his final home game for the Tar Heels (25-6, 11-5), who swept the regular-season series with the Blue Devils for the first time in 11 years, avoided their first three-game slide under Roy Williams and gave the homespun coach his 100th victory at his alma mater.
But perhaps the lasting image of the intense rivalry is Hansbrough's bloodstained face, a scary-looking picture that evoked memories of center Eric Montross' bleeding, shaven head after he took an elbow in 1992. The latest injury came with 14.5 seconds left, when Hansbrough leaped for a layup. After the ball left his hand, he was struck in the face by Gerald Henderson's right elbow.
"He got our guys in the air, and I came down on him," Henderson said. "It's unfortunate that it turned out like it did, but I wasn't trying to hurt the kid or anything. It just turned worse than it was."
Hansbrough crumpled to the ground, his nose bleeding onto the floor and down his face, before he jumped to his feet menacingly and had to be restrained from Duke's players while he was taken to the locker room. The officials reviewed the play and ejected Henderson, then later said in a joint statement that under NCAA rules he would be suspended for one game.
After the game, Hansbrough had cotton in his nose while he watched his teammates cut down the Dean Smith Center nets. Williams said team doctors told him the center's nose was not broken, and though Hansbrough didn't speak to reporters after the game, point guard Bobby Frasor said the player nicknamed "Psycho T" for his relentless focus had calmed down and was laughing about the near-confrontation.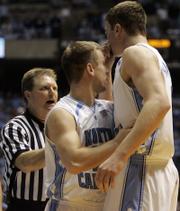 "He said, 'Did you see me get up?'" Frasor said.
No. 5 Florida 85, Kentucky 72
Gainesville, Fla. - Joakim Noah and Taurean Green scored 17 points apiece, and Florida rebounded from consecutive losses to become the first Southeastern Conference team to win six in a row against Kentucky.
The Gators finished the season unbeaten at home.
Noah had 10 rebounds, and Green was 6-of-11 from the floor and 3-of-4 from three-point range.
Creighton 67, No. 11 Southern Illinois 61
St. Louis - Anthony Tolliver had 15 points and 13 rebounds, and Creighton upset the Salukis to earn their seventh NCAA Tournament appearance in nine years.
Nate Funk added 19 points and four assists for the second-seeded Bluejays, who won the conference tournament for the sixth time in nine seasons.
No. 16 Louisville 86, Seton Hall 71
Louisville, Ky. - Edgar Sosa scored 18 points to lead five Louisville players in double figures, and the Cardinals clinched second place in the Big East.
Terrence Williams and David Padgett scored 15 points apiece, Derrick Caracter added 13 and Jerry Smith had 10 points for Louisville, which won its sixth straight.
Clemson 75, No. 21 Virginia Tech 74
Blacksburg, Va. - K.C. Rivers scored 22 points, including the decisive basket with 18 seconds remaining, and the Tigers prevented the Hokies from capturing a share of the Atlantic Coast Conference's regular-season title.
Cliff Hammonds added 17 points for Clemson in the ACC regular-season finale for both teams.
Copyright 2018 The Associated Press. All rights reserved. This material may not be published, broadcast, rewritten or redistributed. We strive to uphold our values for every story published.