Kabul, Afghanistan — A suicide bombing aimed at an American military convoy triggered a chaotic round of gunfire on a busy highway in eastern Afghanistan on Sunday, leaving at least eight civilians dead and about three dozen others wounded, officials said.
The incident, which occurred outside the city of Jalalabad, set off a stone-throwing riot in which hundreds of protesters claiming that U.S. troops fired indiscriminately on civilians shouted slogans denouncing the United States and the government of President Hamid Karzai.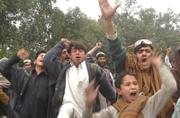 It was the highest civilian death toll this year in an incident involving U.S. or other foreign troops. Such casualties erode public support for Karzai's government, and the Afghan president has made repeated public appeals to allied forces to exercise greater care to avoid killing or wounding civilians.
The incident occurred as a five-vehicle U.S. convoy was on patrol near Jalalabad airfield, a large base just off a heavily traveled highway between the Pakistan border and Kabul, the Afghan capital.
U.S. military officials said American forces opened fire after a suicide attacker detonated a minivan packed with explosives as the convoy passed through the small market town of Bari Kot, whose bazaar was filled with morning shoppers.
Calling the ambush "complex," the military said that, simultaneously with the suicide attack, U.S. troops came under small-arms fire from several directions.
Eyewitnesses, however, said the gunfire appeared to come mainly from U.S. troops whose convoy sped along the highway shooting in the direction of other vehicles and pedestrians for up to five miles from the blast scene.
Allied military officials blamed the Taliban for the civilian casualties, saying the attackers bore responsibility whether bystanders were hit by fire from U.S. troops or insurgents.
Copyright 2018 The Lawrence Journal-World. All rights reserved. This material may not be published, broadcast, rewritten or redistributed. We strive to uphold our values for every story published.