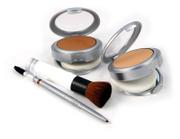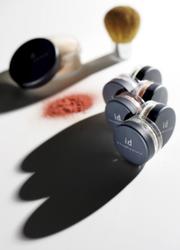 Natural equals Good.
Synthetic equals Bad.
That's the general consensus these days. As Americans become more health- and environment-conscious, their desire for natural living is driving businesses to offer less-processed products.
And the cosmetics industry is no exception. Case in point: mineral makeup.
"(Mineral makeup is) now the bandwagon that everyone's jumping on," said makeup artist Kathleen Abraham of Newport Beach, Calif. "This is a good way to protect the skin and enhance it. It doesn't feel like you're wearing makeup."
Abraham believes an increasing number of women with acne and other skin problems is helping drive demand for mineral makeup.
The Sephora Anaheim store in California gets several customers a day looking for mineral makeup, said Bernadette Romero, store director. Romero said the makeup's popularity has skyrocketed over the last couple of years.
Jane Iredale's mineral cosmetics and Bare Escentuals' i.d. bareMinerals are a couple of the more well-known mineral makeups out there. But there are many others, including some established brand names that have added mineral makeup to their product lists.
While ingredients vary, most of them claim to be good for the skin because they're made from minerals and less harmful ingredients.
L'Oreal Paris' Bare Naturale mineral blush and makeup, for instance, is preservative and fragrance-free, safe for sensitive skin, and contains an SPF 19, according to Rosanne Fama, vice president of product development for L'Oreal Paris.
"It's clear there's a demand for healthy beauty, and the current trends in skin care, such as peels and microdermabrasion, have further increased the need for makeup that works on sensitive skin," Fama said.
Minerals in makeup are nothing new - they've been used for ages to add color and beauty to the face, noted Anastazia Grey Woodin, a makeup artist and esthetician at Baker Street West Salon in Costa Mesa, Calif.
She feels the most important thing is for women to make educated decisions and not view mineral makeup as a cosmetic cure-all for sensitive skin.
"Mineral makeup is good for most skin types," Woodin said. "(But) clients with acne don't necessarily like it because it doesn't provide enough coverage for them.
"On the other hand, clients with dry or aging skin love it. ... Makeup, no matter what kind, will not cover or cure all the problems of your skin."
Many mineral makeups promote their talc-free ingredients, but whether talc is harmful is still a subject of debate.
In its natural form, talc - a magnesium trisilicate mineral - can contain the carcinogen asbestos, according to the American Cancer Society (cancer.org). However, all home-use talcum products must be asbestos-free, a legal requirement since the early 1970s.
Some studies have found a link between asbestos-free talcum powder and ovarian cancer in women who've applied talcum powder to the genital area or used genital deodorant sprays, said Jennifer Horspool, Orange County, Calif., spokeswoman for the American Cancer Society.
But overall, studies connecting cancer and talc remain inconclusive, she said.
Copyright 2018 The Lawrence Journal-World. All rights reserved. This material may not be published, broadcast, rewritten or redistributed. We strive to uphold our values for every story published.