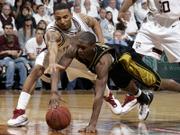 College Station, Texas — Antanas Kavaliauskas' mother traveled more than 5,000 miles from Lithuania to see him play college basketball for the first time.
So it was only natural that he'd be nervous about Saturday's game. Turns out there was no need for concern.
Kavaliauskas scored a career-high 26 points, and No. 7 Texas A&M; (25-5, 13-3) beat Missouri 94-78 to earn the second seed in next week's Big 12 tournament.
"I was worried before, but it was a great game. My mom being here made it even more special," Kavaliauskas said, choking back tears. "I haven't seen her since last May so it was emotional for both of us."
Acie Law and Josh Carter added 20 points each for A&M.;
Texas Tech 63, Iowa State 61
Ames, Iowa - Texas Tech survived a major scare and gave its NCAA Tournament hopes a healthy boost.
Jarrius Jackson scored 17 of his 22 points in the second half, and Martin Zeno added 16 to lead Texas Tech.
Colorado 73, Nebraska 69
Boulder, Colo. - Kal Bay's three-pointer with 25 seconds remaining lifted Colorado in coach Ricardo Patton's final home game.
Richard Roby scored 23 points, and Dominique Coleman added 15 for the Buffaloes.
Baylor 86, Oklahoma St. 82
Waco, Texas - Curtis Jerrells scored 21 points, and Henry Dugat added 20 to lead Baylor.
Baylor led by as many as 18 points, at 64-46, midway through the second half.
Copyright 2018 The Associated Press. All rights reserved. This material may not be published, broadcast, rewritten or redistributed. We strive to uphold our values for every story published.