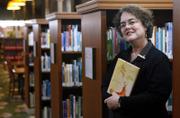 Los Angeles — Susan Patron is the kind of reader who really lives books: She jokes that years before she came to work in the Los Angeles Public Library system she spent almost all of her free time in its branches. When she met the man who would become her husband, some of their early dates were at Chatterton's, the now shuttered local bookstore.
But now this cardigan-clad veteran of the city's Central Library - a well-known and admired figure in the city's children's lit circles - has become a kind of Henry Miller of the preteen set. Her recent Newbery Medal-winning book, "The Higher Power of Lucky," aimed at readers ages 9 to 11, has been denounced by librarians, some of whom have declined to order it, all over the country. Rallying to her defense has been a collection of supporters in the media, in bookstores and online. Barbara Walters spoke up in favor of the book on "The View," and Simon & Schuster, Patron's publisher, has fielded inquiries from David Letterman's show.
"It was very hard at first, because some of the loudest voices against it were coming from librarians," Patron, 58, said in the downtown library's cafeteria over a hot cup of tea. These are, after all, her people. She's been likened by one of them, unfavorably, to shock jock Howard Stern.
The controversy has focused on a single passage on the first page, in which the book's 10-year-old heroine, Lucky, an orphaned girl living in a tiny desert town in the Eastern Sierras, overhears a recovering alcoholic recounting his lowest moment. It came one day "when he had drunk half a gallon of rum listening to Johnny Cash all morning" and fell out of his car "when he saw a rattlesnake on the passenger seat biting his dog, Roy, on the scrotum." (Patron has said the detail was based on a real incident.)
Lucky later decides that the word "sounded medical and secret, but also important."
If only Lucky had known just how important some grownups would find the word, which as it turns out plays only the smallest part in the book. Because children's books depend heavily on librarians for sales and circulation, the outrage that has erupted on such online discussion groups as LM Net could damage the book's reach. The Newbery is awarded by the Association for Library Service to Children, a division of the American Library Association. But some librarians and teachers have said they find the book vulgar, some said they were uncomfortable reading the word aloud, and others have said they don't want calls from angry parents. Patron herself, meanwhile, has received "pretty nasty" e-mails.
Public outcry
Patron, a former branch children's librarian who's in charge of assembling children's materials for the Los Angeles system, can take the long view on the history of controversial children's books. She was surprised by the outcry; her French-born husband was, she said, "nonplused."
"I think this came up because it's on Page 1 and because it's won this major award," Patron said. "For people who don't like to read this whole book, but just to object to a word, I handed it to them, you know? They didn't have to go further."
Over the book's 134 pages, Lucky worries that her guardian will move back to her native France, catches bugs, consorts with her dog HMS Beagle and her friend Lincoln, who is a member of the International Guild of Knot Tyers. To an adult eye, it comes off as pretty sweet and innocent - a typical child's journey.
"She's trying to grow up," said Patron, "trying to find out what she needs to be an adult."
Young Adult, or "YA," books, which typically are aimed at readers 11 or 12 and older, often cover controversial ground, dealing with sexuality, painful coming-of-age issues and world crises. But "Lucky" is more of a children's book.
On Patron's home turf of Los Angeles, the controversy hasn't caught fire.
"I truthfully don't think it will affect our sales here," Sharon Hearn, owner of Children's Book World, said of the uproar. "I don't think our customers object to the mention of a part of the anatomy."
Hearn's store did a book signing with Patron when "Lucky" came out in November with a print run of 10,000. "I wouldn't hesitate to recommend that book," Hearn said. "It's a very well-written, engaging story about a universal theme: a girl wanting to have a secure home."
Shock treatment
Patron, who earned a master's of library science from Immaculate Heart College in Los Angeles, found early pleasure in reading that made her want to write herself. As a kid, she often went with her family to the desert of the Eastern Sierra, and she enjoyed exploring old mining camps that were becoming ghost towns.
"But there are kids there: I remember seeing the sign, 'Slow, Children at Play,' " and wondering what the lives were like there. "What if you had this little town, with a 10-year-old girl: How would she survive up there emotionally?"
For almost a decade Patron was stuck: She had only the setting and the character. But the death of her mother a few years ago, which she said "unmoored" her, urged her to make the book about the girl's feelings about her own mother and guardian.
It's in her search for information that her protagonist comes across the offending word. "I chose the word 'scrotum' very carefully and deliberately," Patron said, hinting at a moment near the end where the word's odd, slightly taboo quality contributes to a thematic resolution. "It wouldn't have worked if the word was 'clavicle.'"
The most frequently discussed objection comes from teacher and librarian Dana Nillson of Durango, Colo., writing on the LM Net mailing list: "The book included what I call a Howard Stern-type shock treatment just to see how far they could push the envelope, but they didn't have the children in mind. How very sad."
Nillson did not return a call for comment.
Patron said, "There's a perception in America that you can put your kids in front of the TV, let them play certain kinds of games and expose them to absolutely atrocious levels of violence and language. But somehow the book is sacred. And especially the Newbery winner."
Whether because of the Newbery, which was announced Jan. 22, or the controversy, the book has climbed onto best-seller lists and is shipping steadily from Amazon.com.
"Selling well would mean to me that kids will have access to the book, and that's what every writer craves," she said. "To be read. It would mean I have the chance to connect with lots of children."
Copyright 2018 The Lawrence Journal-World. All rights reserved. This material may not be published, broadcast, rewritten or redistributed. We strive to uphold our values for every story published.