Seattle — Jon Brockman couldn't stop complimenting UCLA, from its bevy of talented weapons to the Bruins' suffocating defense.
On Saturday, the compliments were best left for Brockman and Washington.
The Huskies' bruising forward scored 20 points and grabbed 13 rebounds, and Washington logged its biggest win of the season, a 61-51 upset of the second-ranked Bruins.
The Huskies used their own stifling defense, combined with superior inside play from Brockman and freshman center Spencer Hawes physically to match the Bruins' grind-it-out style.
"They outphysicaled us. They outplayed us in every aspect of the game, and it's embarrassing," UCLA's Arron Afflalo said. "I don't know what we were resting on."
UCLA had little to play for with the Pac-10 Conference regular season title already wrapped up after an emotional 53-45 win Thursday night at No. 13 Washington State.
But Washington needed the victory for momentum heading into next week's conference tournament, which it likely must win to make the NCAA Tournament. Now Washington heads to Los Angeles riding wins over No. 23 USC and now the Bruins.
"We can enjoy this all we want, but the fact of the matter is they're No. 2 in the nation, they're going to be in the tournament and we've still got some work to do," Brockman said.
Brockman and Hawes have combined for bigger games both with points and rebounds, but never against an opponent the quality of UCLA. Hawes added 13 points and 15 rebounds, while Ryan Appleby scored 13, hitting three three-pointers.
Brockman regularly chased down loose balls giving Washington extra possessions, while the 7-foot Hawes blocked shots and controlled the glass at the defensive end.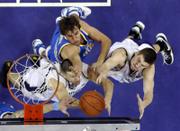 Washington outrebounded the Bruins 44-29, and the Huskies' defensive effort as a whole came as a shock given that they entered the week last in the conference, giving up 75 points per game.
Josh Shipp led UCLA with 13 points, but the Bruins could not overcome a season-low 20 first-half points and three scoreless stretches of five minutes or more.
No. 1 Ohio State 65, Michigan 61
Ann Arbor, Mich. - Greg Oden scored 12 of his 16 points in the second half to help Ohio State win its 14th straight game.
After trailing by six, the Buckeyes held the Wolverines scoreless for the final 3:54.
Ohio State's Ron Lewis scored 12 of his 16 points in the first half, and Mike Conley Jr. had nine of his 11 in the second.
No. 4 Wisconsin 52, Michigan State 50
Madison, Wis. - Kammron Taylor's three-pointer with four seconds remaining lifted the Badgers, who avoided going into the postseason with three straight losses.
Drew Neitzel scored 22 points for the Spartans, who have lost two straight after gaining momentum toward a potential NCAA Tournament berth with four straight conference victories before losing at Michigan last week.
No. 6 Memphis 64, SMU 61
Dallas - Chris Douglas-Roberts had 19 points with the key basket late, and Memphis won its 19th straight game to complete a perfect record in Conference USA.
The Tigers overcame an early 11-point deficit to lead at halftime, but didn't go ahead for good until Douglas-Roberts hit a three-pointer to make it 59-57 with 3:47 left.
No. 9 Georgetown 59, Connecticut 46
Washington - Roy Hibbert had 18 points and 12 rebounds, and the Hoyas ended a decade of frustration against Connecticut and clinched a least a share of the Big East regular-season title.
The win assured Georgetown the No. 1 seed in next week's conference tournament.
Georgetown hasn't been the No. 1 seed since 1989.
No. 10 Nevada 69, New Mexico State 65
Reno, Nev. - Marcelus Kemp scored 21 of his 32 points in the second half, and Nick Fazekas added 22 points and nine rebounds to lead Nevada.
Kemp was 9-for-17 from the field and 12-for-13 on free throws, including four in a row after a foul and technical foul gave Nevada the lead for good, 50-47 midway through the second half.
No. 11 S. Illinois 53, Bradley 51
St. Louis - Matt Shaw's tip-in with 3.2 seconds remaining lifted Southern Illinois over Bradley in the semifinals of the Missouri Valley Conference tournament.
Jamaal Tatum had 20 points and was 4-for-5 from three-point range for the Salukis, who have won 13 straight. Southern Illinois will play Creighton in the championship today.
No. 13 Washington State 88, Southern Cal 86, 2OT
Pullman, Wash. - Aron Baynes scored a career-high 25 points, and Washington State wrapped up second place in the Pac-10 Conference.
Taylor Rochestie added 21 points, and Kyle Weaver had 15 points and 13 rebounds for Washington State.
Lodrick Stewart led USC with 22 points. USC, which lost consecutive games for the first time this season, fell to the third seed for the upcoming conference tournament.
No. 17 Oregon 70, Oregon State 49
Eugene, Ore. - Bryce Taylor scored 22, Aaron Brooks added 18, and Oregon cruised.
The Ducks won their final three games of the regular season and have won 14 straight against the Beavers at McArthur Court. Oregon will go into next week's Pac-10 tournament as the fourth seed.
No. 18 Butler 67, Loyola of Chicago 66, OT
Fairborn, Ohio - A.J. Graves, the nation's second-leading free-throw shooter, hit six foul shots in the final 53 seconds of overtime to lead Butler in the semifinals of the Horizon League tournament.
Graves finished with 12 points. Brandon Crone led the second-seeded Bulldogs with 17 points.
League co-champion Butler will play top-seeded Wright State in Tuesday night's championship game.
Arkansas 82, No. 19 Vanderbilt 67
Nashville, Tenn. - Gary Ervin scored 21 points, and the Razorbacks kept their slim NCAA Tournament hopes alive.
The Commodores, who came in looking to go undefeated at home in the Southeastern Conference for the first time since 1993, had their 13-game home winning streak snapped. Derrick Byars led Vanderbilt with 19 points.
No. 20 Marquette 75, No. 12 Pittsburgh 71
Milwaukee - Wesley Matthews and David Cubillan scored 20 points each to help Marquette.
Marquette came into the game shaky and short-handed, but looked more athletic and energetic than Pittsburgh from the opening tip - until the Panthers nearly stole the game with a late rally.
No. 22 Notre Dame 73, Rutgers 66
Piscataway, N.J. - Colin Falls scored 22 points, and Russell Carter had 17 for Notre Dame.
Notre Dame, which clinched a first-round bye in the Big East tournament when Syracuse lost earlier in the day, can grab the third seed if Louisville loses to Seton Hall today.
No. 24 Maryland 79, N.C. State 59
College Park, Md. - Mike Jones scored 21 points in his final home game to lead Maryland to the victory.
Jones' fellow seniors, D.J. Strawberry and Ekene Ibekwe, also played big roles in the Terrapins' seventh straight win to close the regular season. Strawberry had 16 points, six rebounds and four assists, and Ibekwe added 14 points and 12 rebounds, his seventh double-double of the season.
Copyright 2018 The Associated Press. All rights reserved. This material may not be published, broadcast, rewritten or redistributed. We strive to uphold our values for every story published.