Photo Gallery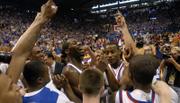 1900: KU vs. Texas photo gallery
Some thoughts...from Allen Fieldhouse
Gary Bedore, Journal-World KU men's basketball beat writer
"Considering how the game started, it had to be one of the greatest victories in Fieldhouse history.
KU withstood a 'one for the ages' half by Kevin Durant and blew past the Longhorns in the second stanza.
It was nice to see Bill Self get a great moment in the building, that is snip the nets. He's won three league titles in four years and deserved to bask for a bit.
In case any fans are worried about being complacent, stop. Self said he wanted a lot more net cutting before the conclusion of the campaign.
Everybody should be happy. KU beat one of the best players to ever play in the building, and the rest of the young Longhorns aren't bad, either."
Tom Keegan, Journal-World sports editor
"Babe Ruth hits four home runs and your team beats the Yankees, 5-4. Everybody goes home happy.
That's what it was like for the loud throng inside Allen Fieldhouse on Saturday. Kevin Durant, with 25 of his 32 points in the first half, was great, all right. Think a taller Carmelo Anthony and an even better shooter.
Kansas needed several players at their best to win this one and that's what it got, save for at the free throw line. Great sign."
Ryan Greene, KUSports.com editor
"Lost in the mix of a first half in which Texas hit seemingly every shot within 94 feet of the hoop was KU's offensive output. After 20 minutes, the Jayhawks were on pace to score 84 points, but no one gave them a chance to win.
Texas turned the ball over three times in the entire first half, and then twice in the opening minute of the second. The Longhorns finished with 12. And while Texas' team field goal percentage dropped more than 20 percent in the second half, KU's boosted from 50 to 54.5 - sort of a 'slow and steady wins the race' scenario.
Free throws were also lost in the madness that was the final few minutes. If Russell Robinson and Mario Chalmers closed out the back ends of one-and-ones and Julian Wright doesn't split a pair, Texas never would have had two clear shots in the final seconds to win."
Ryan Wood, Journal-World sports reporter
"It would have been easy to get frustrated after Texas hit nearly every shot during an incredible first half. Kansas, realizing that UT wouldn't be that hot forever, kept its composure, kept it close and then took over when the Longhorns cooled off.
Kudos to the Jayhawks. They had every reason to throw up their arms and say 'It's not our day' at halftime, with Kevin Durant and the 'Horns looking better than ever. They didn't. They fought like hell, climbed back in it and won the game. Champions do that."
Audio Clips
2006-07 March 3 KU-Texas Hoops
Inside the numbers
2: Julian Wright's 17 points and 13 rebounds were as impressive as ever, but it was another statistical category which his day will be remembered for. He had two blocked shots, with the second of those coming in the closing seconds, as D.J. Augustin hesitated a little too long to let go of what could have been the game-tying three-pointer. It evoked memories after the game of Syracuse's Hakim Warrick doing the same to Mike Lee in the 2003 National Championship game. Only this time, it didn't leave KU fans with heads buried in the sand.
78.6: Who honestly thought once Texas shot at that clip from three-point range (11-of-14) in the first half, that KU would make it a game again so quickly? Well after the game, the Jayhawks themselves seemed to be firmly stuck on the belief that there was no way Texas could duplicate it in the final 20 minutes. They wound up being right, and KU matched that percentage almost perfectly, going 5-of-7 from long range in the second stanza.
32: Texas freshman Kevin Durant's day might have ended with a bit of a thud to go with some ice for his left ankle, but there's no doubting that with the show he put on in the game's first half, he goes down as one of the best players to have ever set foot on the storied (and now gaudy) Allen Fieldhouse floor. It was truly a disappointment he got hurt, because, boy, was he a joy to watch. He finished with 32 points, 25 of which came in the first half, including five threes in the first 20 minutes.
52.4: KU finished the game by shooting 52.4 percent from the floor, steadily improving from 50 percent at halftime by firing away at 54.5 percent in the second half. Their two solid halves combined overcame a red-hot first half from the Longhorns, who shot 57.1 percent before halftime and then just 36.4 percent in the second.
5: Mario Chalmers was as key as anyone in KU's storming comeback, and on the day he cashed home a career-high five three-pointers as part of his 21 points. Even more impressive is the fact that he did it on five attempts. Russell Robinson's three treys were also a career-best.
3: KU's win masked one lingering problem - missed free throws continue to be a trend. KU shot just 13-of-24 from the stripe, including a trio of huge misses down the stretch. Chalmers, Robinson and Julian Wright each missed either the front or back ends of two-shot trips to the line, and those three misses each gave Texas repeated chances at tying or winning the game. And not every team will miss those looks.
0: For the second straight game, Sherron Collins went scoreless for KU. But for the second straight game, it shouldn't be overblown. The Jayhawks again won without their pulse throughout Big 12 play scoring a point, and he still found other ways to contribute, grabbing five rebounds and drawing defenses into the rim before kicking out to open shooters, registering five assists.
Just in case you missed it...
Even when Kevin Durant got hurt midway through the second half, this Texas team showed just why it is as capable as anyone of making a run deep in the NCAA Tournament. Freshman point guard D.J. Augustin's 13 assists were the most ever recorded by a KU opponent, breaking a record of 12 set by Oklahoma's Mookie Blaylock set in the first month of 1989. Sophomore shooting guard A.J. Abrams also scored 18 points, showing off his widely-known ability for having Durant-like range on the outside. Even if (that should be a 'when') Durant bolts for the NBA, Texas is going to be dangerous for awhile.
Hopefully you didn't miss it...
Don't think for a second that it took Durant getting hurt for KU to be able to make a comeback Saturday. The Jayhawks' 17-4 run to start the second half came with Durant on the floor and at full strength. Even though it's a tired saying, great teams are great when they have to be. Everyone knew that if KU was to have a chance at halftime, the first five minutes of the second half would determine whether the team learned its lesson. Bill Self put Brandon Rush on Durant exclusively, they took down his number of touches, made him drive to score and, most importantly, hit practically every open shot. Between squeaking out a once-guaranteed-looking win at Oklahoma and clawing back from behind against Texas at home, this week taught KU a ton.
They said it...
Darnell Jackson on Kevin Durant: "The only thing we were thinking in the locker room was Durant was making every shot. I've never seen nobody come into the Fieldhouse and just play like that. He's a great player...Before we came out to warm up, his team was out there and he was ready to go, looking around in the crowd. I was like 'man, he might do something special tonight.' He came down and just hit shot after shot after shot. Five-of-five from the three-point line in the first half, and he's a 6-10 big man, play every position, that's crazy."
Darrell Arthur on KU claiming the Big 12 crown by its lonesome: "It's pretty amazing how things work out. We say 'Big 12 Champs' everyday after practice just for this moment right here."
Brandon Rush on the team's level of worry at halftime: "We weren't concerned at all. There was so much time left."
Mario Chalmers on his team's case for a No. 1 seed: "I think this shows that we deserve to be a No. 1 seed. We were down 14, we fought hard and we pulled out the victory...I think this is going to help us get our number one seed."
Bill Self on the difference between KU's offense and Texas': "To me, if you have one or two go-to guys, they have to play well for you to win in a hotly-contested game, whcih they're going to do 90 percent of the time. With us, we have to have five guys play well out of eight. So, you know, we don't have scoring punch like Texas has, but we do have a bunch of guys that can get the ball in the basket, and if it's their night they're all very effective. We just don't have consistent individual scoring. I loved having Wayne (Simien), knowing that every possession down he's going to get a touch, and that's a pretty good feeling, but we don't have that this year and I think our guys have adjusted to that pretty well for the most part."
Bill Self on wanting to win the conference title outright: "It wouldn't be the worst thing ever to share a championship. Winning a championship's a pretty big deal. But we needed to win it ourtight, because in all honesty the schedule was tipped in our favor because we played Texas and A&M; both at home. Since we stubbed our toe at home against A&M;, we had to win today. I didn't tell our players that, but that's how I felt goin in."
Bill Self on the start of the second half: "After we got to halftime, it was important for us to play good the first three or four minutes and we played great, and that totally turned the game."
Bill Self on if he thinks his team is a No. 1 seed after Saturday: "No. We've got to go play well in Oklahoma City. But I think we're pretty close."
Copyright 2018 The Lawrence Journal-World. All rights reserved. This material may not be published, broadcast, rewritten or redistributed. We strive to uphold our values for every story published.