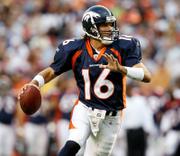 Tampa Bay, Fla. — The Tampa Bay Buccaneers signed free-agent quarterback Jeff Garcia and potentially nabbed even more competition for incumbent starter Chris Simms by obtaining the rights to Jake Plummer from Denver on Saturday.
Garcia, a three-time Pro Bowl selection who nearly signed with the Bucs as a free agent in 2004, agreed to a two-year deal he hopes will give him a chance finally to get to the Super Bowl.
A championship is missing from Plummer's resume, too, but its unclear if it remains a personal goal because the 32-year-old is said to be considering retirement after losing his starting job with the Broncos last season.
Stepping away from the game couldn't be farther from the 37-year-old Garcia's mind.
"Throw age out the window because that's not how I play. That's not how I focus. That's not how I mentally prepare. That's not who I am," Garcia said during a news conference.
"I'm somebody who is excited about this opportunity, who's excited to be around the guys and bring a good mix of leadership and drive and will and perseverance - all those things you need in order to turn the corner and get back that winning feeling, that winning tradition."
The Bucs won the Super Bowl four seasons ago, but have had losing records and missed the playoffs three of the past four years.
A tight salary-cap situation has prevented the Bucs from being real players in free agency since coach Jon Gruden took over in 2002. However, the team began this year's signing period with about $25 million in space.
General manager Bruce Allen acknowledged the Bucs traded a conditional pick in the 2008 draft for Plummer, even though they were aware the quarterback is thinking about not playing again.
Plummer, who has three years left on his contract and is due $5.3 million in 2007, led Denver to the AFC Championship Game two seasons ago, but was benched after 11 games last season for rookie Jay Cutler. His .722 winning percentage with the Broncos from 2003-06 is the fourth-best in the NFL behind Tom Brady, Peyton Manning and Ben Roethlisberger.
Allen said the Bucs did not acquire the quarterback's rights with the idea of trading him.
Chiefs, McIntosh agree
Kansas City, Mo. - Tackle Damion McIntosh has agreed to a six-year deal with the Kansas City Chiefs, team president Carl Peterson announced Saturday. No terms of the agreement with the former Kansas State player were released.
McIntosh, an unrestricted free agent who started 13 games at Miami last season - 11 at left tackle and two at right guard - likely will play left tackle for the Chiefs, Peterson said.
McIntosh, 6-foot-4, 320 pounds, started 43 games in three seasons with Miami, after going to the San Diego Chargers as a third-round draft pick in 2000 and playing 41 games for the Chargers in four seasons.
Pats sign LB Thomas
Foxborough, Mass. - Linebacker Adalius Thomas, one of the most sought-after free agents, signed Saturday with the New England Patriots, giving the three-time Super Bowl winners a player in the mold of the departed Willie McGinest. The 29-year-old Pro Bowler, one of the keys to the Baltimore defense last season, can play several positions, including outside linebacker and defensive end.
Browns sign Steinbach
Berea, Ohio - Eric Steinbach shed his Bengals stripes for a chance to help turn around another awful NFL team. The coveted free-agent offensive lineman, who spent his first four seasons pro blocking for Cincinnati, signed a seven-year, $49.5 million contract with the Cleveland Browns on Saturday.
Dielman returns to Chargers
San Diego - Kris Dielman seemed all but gone from the San Diego Chargers once free agency opened, with big bucks beckoning elsewhere for the left guard. Hours after being wooed by the Seattle Seahawks, though, Dielman agreed to return to the Chargers on Saturday in a surprise move that took one of the most sought-after offensive linemen off the market.
NFL keeps eye on case
New York - The NFL is looking into reports that a Pittsburgh Steelers doctor was on the customer list of a Florida pharmacy whose owners have been indicted by a grand jury in Albany, N.Y. League spokesman Greg Aiello said Saturday that the league routinely checks out reports about activities with drugs or other substances that involve NFL personnel.
Redskins bring back Smoot
Washington - Cornerback Fred Smoot agreed to terms with the Washington Redskins on Saturday night, returning to the team he left two years ago before two seasons with Minnesota.
Copyright 2018 The Associated Press. All rights reserved. This material may not be published, broadcast, rewritten or redistributed. We strive to uphold our values for every story published.