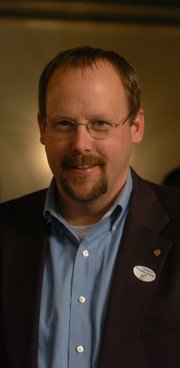 As a pastor, James Bush never quite felt involved enough in his community.
"I felt like I was on the sidelines, encouraging others who were in the game," he says. "It came down to a sense that I have to get in the game in a more direct way."
So he quit his job as pastor at First Southern Baptist Church, 4300 W. Sixth St., where he had been for nearly five years.
Now, he's started up Bush Consulting Group, a business consulting, corporate training and motivational speaking company.
It might seem like a big jump. But Bush says it's not as dramatic as it might seem.
"I'm utilizing skills I've developed over the last 15 years as a pastor," he says. "The church calls it Sunday morning preaching. Businesses call it motivational speaking. It's more similar than different."
Bush had been a pastor for 15 years. He also ran unsuccessfully for Lawrence City Commission this spring.
He says there's nothing in particular about being a pastor that irritated him. But he says he has "a heart for the marketplace" and a "passion for working with people" that being a pastor didn't satisfy - especially with so much administrative work.
Though his firm won't be Christian-based - and it's a for-profit venture - he thinks there's some overlap in principles from his old job.
"I believe the principles I'm following are biblical principles," Bush says. "I believe making a profit, for a business, is a biblical mandate - that teaching people to leave an inheritance for their children's children is a biblical mandate."
Copyright 2018 The Lawrence Journal-World. All rights reserved. This material may not be published, broadcast, rewritten or redistributed. We strive to uphold our values for every story published.