Apple fan Brian Best on the iPhone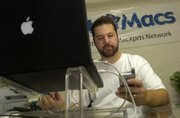 Call it i-citement.
Tech-savvy consumers are expected to be standing in lines today to be among the first to purchase the iPhone, the newest invention from Apple. The device combines the function of an iPod music and video player with a high-tech cell phone that can take photos, receive e-mail and surf the Web.
"Why wouldn't you be excited?" Lawrence resident Brian Best said when asked about today's national debut of the product. "This is the best iPod they've ever made."
Best - a longtime Apple fan who owns Best Macs, a service shop for Macintosh computers - has a strategy for getting his hands on an iPhone today.
In this area, the devices only will be available to purchase at AT&T; stores. The iPhone - which ranges in price from $499 to $599 - goes on sale at 6 p.m., and will be sold on a first-come, first-serve basis.
Best said he has friends who have agreed to start scoping out AT&T; stores in Topeka about noon to see if lines are forming there. Best said he thought Topeka stores would be less likely to have lines than the lone AT&T; store in Lawrence at 520 W. 23rd St.
"I would expect that there will be lines in Lawrence," Best said. "Lawrence is very Apple-savvy. We're a very creative town."
The local AT&T; store is gearing up for the big event. The store will close at 4:30 p.m. to prepare for the debut at 6 p.m. The store is scheduled to be open from 6 p.m. to 10 p.m. today to serve people looking to buy the devices.
AT&T; officials were telling customers Thursday to expect some waits at their stores today. They also were urging people who had business to take care of at the store that was not related to an iPhone to do so before the 6 p.m. launch.
AT&T; stores and Apple stores - there's one in Kansas City, Mo., on the Country Club Plaza - are the only retailers selling the devices. To use the phone, buyers must purchase a two-year service contract with AT&T.;
The phone has created all types of buzz among the media and the tech industry.
"This is the most anticipated phone since Alexander Graham Bell did his," said Michael Gartenberg, an industry analyst at JupiterResearch.
Analysts have said they're expecting the phone to be much simpler to use than current "smart" phones that allow users to receive e-mail and surf online.
That's what Best is counting on. He currently owns a smart phone but said it often is time-consuming to use.
"Yesterday I took a picture with my phone," Best said. "First of all, it looked like garbage, but I wanted to attach it to an e-mail and send it from my phone.
"I'm a computer guy, and it took me 10 minutes."
With the iPhone, he expects it will take less than a minute.
Copyright 2018 The Lawrence Journal-World. All rights reserved. This material may not be published, broadcast, rewritten or redistributed. We strive to uphold our values for every story published.