Anaheim, Calif. — Billy Butler, John Buck and Alex Gordon homered, and the Kansas City Royals took advantage of two throwing errors by third baseman Chone Figgins in a 12-4 rout of the Los Angeles Angels on Tuesday night.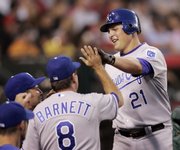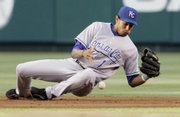 Gil Meche (5-6) won his second consecutive decision after going 0-5 with a 5.73 earned-run average in his previous five starts. The right-hander allowed three runs and seven hits over six innings and struck out six while improving to 7-2 against the Angels and 6-1 in Anaheim.
The AL West-leading Angels, who had tied a franchise record with nine straight series victories, lost a series for the first time since AL champion Detroit took two of three from them in May. The 12 runs allowed equaled a season high.
Ervin Santana (5-8) gave up seven runs - five earned - and nine hits in five-plus innings. It was the first time in 72 career regular-season starts that the 24-year-old right-hander failed to strike out a batter.
The Royals, who own the AL's worst record, grabbed a 5-1 lead with four runs in the fifth. Joey Gathright led off with a double and Santana hit David DeJesus on the right foot with a pitch. Figgins fielded Esteban German's sacrifice bunt, but his throw to first base drifted into the runner and off the glove of second baseman Howie Kendrick, allowing Gathright to score the go-ahead run.
Mark Teahen followed with an RBI double, German scored on a wild pitch and Gordon capped the rally with an RBI single.
Jose Molina's RBI double cut Kansas City's lead to 5-2 in the bottom half, but the Royals extended the margin to 7-2 in the sixth on Buck's 14th homer and Tony Pena's sacrifice fly after Figgins made another bad throw to first on a bunt by Gathright.
Butler hit his first big-league homer in the fourth. Gordon added his sixth of the season, a three-run shot off Darren Oliver to cap a five-run eighth. That gave Gordon a career-high four RBIs.
Angels rookie Nathan Haynes tripled in the third and scored on a suicide squeeze by Reggie Willits. Haynes also threw out Gathright at the plate on a single to left by German.
Kendry Morales hit a solo homer for Los Angeles in the ninth.
Notes: The Royals try for their first three-game sweep of the season today, with Jorge De La Rosa facing Jered Weaver. Their last one was at Detroit, in the final three games of the 2006 regular season. ... Santana, who led the Angels with 16 wins last year, hasn't won consecutive starts this season. ... Gathright was shaken up briefly in a home plate collision with Molina in the sixth. He felt even worse when third base umpire Bob Davidson called him out on an appeal play for leaving the bag too early after Emil Brown's fly to right. ... Buck threw out Figgins at third base on the front end of an attempted double steal in the first. ... Kansas City batters have been plunked a major league-high 48 times, including German in the sixth by Chris Bootcheck. ... Eleven of Buck's homers have been solo shots.
Copyright 2018 The Associated Press. All rights reserved. This material may not be published, broadcast, rewritten or redistributed. We strive to uphold our values for every story published.