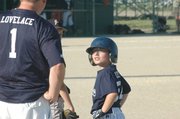 The bleachers at youth baseball and softball games are filled with parents who are there to watch and support their kids.
So are the benches in the dugouts.
The coaching staffs of Douglas County Amateur Baseball Association, Lawrence Girls Fast Pitch Association and Louie Holcom Baseball Association teams are comprised almost completely by the fathers of players on the respective teams.
That provides some extra bonding time for the players with fathers who double as coaches.
"It's pretty fun," the DCABA Raptors' Jackson Tyler, 8, said of playing for his father Jack Tyler. "I like playing catch with my friends and I like playing catch with my dad a lot. We play catch when nobody's here."
DCABA Suns coach Michael Ison said he is happy to be involved with the baseball side of his son Carter's life.
"We enjoy each other," Ison said of their time on the diamond. "It's an opportunity for us to go out and do something together.
"Everything they do on the baseball field is a life experience," he said. "That's something Carter and I share."
LGFPA Jets coach David Kraus said he values the quality time he and his daughter Alijah, 13, share on the softball field.
"Mainly just spending a little extra time with her, getting a little better bond with her," he said was the best part of coaching his daughter.
The strength of the parent-child bond, however, can provide a challenge for coaches as they must make a conscience effort to not play favorites with their own kids.
"The last thing I would want to do is have another parent think I was favoring my kid because their kid deserves my attention just as much as my kid as far as baseball goes," Jack Tyler said.
Kraus said divvying up attention and playing time can be difficult.
"That's probably the hardest thing - making sure you're equal to everybody on the team without giving preferential treatment," he said. "The most important thing is to make sure they're having fun with it. The second thing is to make sure they don't feel like they're getting left out or getting more privileges."
Ison said being a dad and a coach can conjure up questions: "How do I coach my kid? Do I coach him differently than the other kids?"
Rex Porter, coach of the Heinrich League's Lawrence Cubs, said he tries to treat all of his players, including his son Zach Pence, 13, the same and takes it a step further by strictly being a father and not a coach at home.
"I really try to coach the same way," Porter said. "We have a golden rule that we don't take it home with us. We leave everything on the field. We never talk about a game after a game's over."
Once coaches develop relationships with all the team's members, Ison said coaches can start to feel like all the players are their kids.
"You feel like a surrogate parent almost in coaching them," he said.
Alijah Kraus said she sees that in her father, and her teammates don't think the coach shows any favoritism.
"He treats us all like his daughters," she said.
But sometimes the players don't return that favor, which Jack Tyler said leads to some strange exchanges with his son, Jackson.
"He calls me 'coach' out here when we're playing ball," Tyler said. "Every time he calls me 'coach' I kind of look at him weird."
The coach-player relationship between a father and his child can take time to develop. Porter recalled a moment when Pence was eight that changed the way he approached coaching his son.
"There was a time when I yelled at him on the field and I could see I crushed him," Porter said. "I told him afterwards that I'd never do that."
Pence said his baseball game has improved thanks to Porter's approach.
"It makes me feel more at home, more comfortable," he said.
Ultimately, dads just want to be there for their kids.
"Hopefully I'll be his coach for a long time," Jack Tyler said of coaching his son Jackson.
Ison said he plans on donning the same baseball uniform and cap as his son Carter for a long time.
"As long as he wants me to help him and support him I'll be out there," he said.
Copyright 2018 The Lawrence Journal-World. All rights reserved. This material may not be published, broadcast, rewritten or redistributed. We strive to uphold our values for every story published.