Three-time all-conference selection. Big Ten defensive player of the year as a senior, the same season he and current ESPN analyst Kirk Herbstreit were Ohio State's co-captains. The Buckeyes' leading tackler three consecutive seasons.
Such honors don't come to those who are content to blend quietly into the background, always following, never leading.
Fortunately for an Ohio motorist a few years back, a doer, not a lifelong bystander, was driving the vehicle behind her pickup truck when she lost control of it. On that afternoon, Steve Tovar, former Ohio State and NFL linebacker and current linebackers coach for Kansas University, made the most meaningful power lift of his life.
"It swerved into a passing lane, swerved back into the right-hand lane, flipped up off the highway," Tovar remembered from his desk inside the KU football offices. "It was almost like it was happening in slow motion, and as it was flipping, I was thinking it was going to hit the overhead pass. It got that far up off the ground. The rear axle ends up on the side of the highway. Stuff is coming out of the truck. I was like, 'Lord, you put me here for a reason. I don't know why, but you put me here to see this.' I'm thinking there might be somebody dead in there. Nobody walked up to the truck. So I was thinking, 'Well, here it goes.' I walk up to the truck. I see all the debris all over the highway."
The vehicle was on its side, passenger side up.
"There was a girl inside the truck and she was crying," Tovar said. "She was like, 'Get me out of here.' It was kind of scary for me, the gas tank was here (points) and the oil was there (points again)."
Tovar had taken enough health education and sports coaching classes to know that when a football player is injured, the right call is to keep him as still as possible. There were liability issues to consider as well, which no doubt partially explained the gathering crowd of spectators who decided to stand by the side of the road and watch this one play out.
"I wasn't sure which was more a danger, leaving her in there or taking her out," Tovar said. "When I see things coming out of the engine block and things scattered all over the road, you don't know what's coming next."
He asked her a couple of times if she was sure she wanted him to remove her. Sobbing, she repeated she was sure and then she raised her arms "straight up in the air."
"I reached down and grabbed her up like I was doing a power lift from all those days of lifting weights," Tovar said. "I got a good grip under her armpits and lifted her out."
Then he remembered, as if it were five minutes ago, that he carried her over to the side of the road and placed her on a blanket. A helicopter arrived and transported her to the hospital. Tovar said he received from the girl's father a letter that thanked him and informed him she was doing fine.
"Just one Buckeye taking care of another," said Tovar, who grew up on the outskirts of Cleveland, in Elyria, Ohio.
Football is all about reading a situation quickly, communicating properly, making the right snap judgment. It's all about mental and physical strength. The same traits Tovar brought to his superstar career at Ohio State and eight seasons in the NFL came in handy on that frightening afternoon on the highway.
Tovar came to Kansas to work for Mark Mangino after coaching two seasons under Bobby Ross at West Point and one under Nick Saban with the Miami Dolphins. Tovar played five seasons with the Cincinnati Bengals, who selected him in the third round of the 1993 NFL draft, two with the San Diego Chargers and one with the Carolina Panthers.
He has a presence about him. For one thing, he looks as if he still could blast through and drive a quarterback into the turf. For another, he communicates so directly, so confidently, locking the other person's eyes and never letting go so that not a word goes unheard.
He has an interesting playing career from which to draw for stories, but seems to go there only when prompted.
It's clear he viewed playing football at Ohio State as a privilege, not a birthright. Maybe that's why he remembers every moment of it, from beginning to end.
"First day of training camp my freshman year, all the freshmen lined up," Tovar said. "All different nationalities, all different backgrounds, a whole bunch of guys 6-3, 240, looking right down the row. All of them All-Mister Everything. I was like, 'How am I going to make it out of this? How am I going to get any playing time?' ... Greatest single moment as a Buckeye was walking out the tunnel at the last home game with 98,000 people screaming your name for the last time. That's the last time I remember ever having a tear coming down my eye."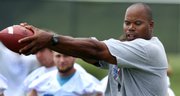 Life in the NFL
Greatest single moment as an NFL player?
"Knocking Steve Young out in one game," Tovar said. "That was pretty good. I did that my second game. I hit him pretty square. It was in Candlestick Park, that's how old I am. Steve Young tried to put one of those juke moves on me. I stayed true to all the coaching lessons I coach linebackers. Run through the guy. I hit him good and I heard the crowd go, "Ooh!" and that made me think, 'Man, I must have got him good.' When I hit him, I saw his eyes roll back, and he's laying there. They cart him off. Elvis Grbac, also from Cleveland, came in for him. He rolled out and threw an interception to me. I thought that was fun."
Overall, though, he said his greatest experience as an NFL player was teaming with linebacker Junior Seau for two years with the Chargers.
"I've never seen a guy - I thought I was a hard worker - work so hard, dedicate himself so much, admire the game of football and play it the way it's supposed to be played the way he did," Tovar said. "Just the way he practiced. Practice was game time. Such passion."
Tovar said he decided to join Seau's workout group for its 6 a.m. sessions, which they did in addition to the daily strength and conditioning team sessions.
"I show up a little before 6, and Junior's already there," Tovar said. "OK, so the next day I decided to show up at 5:15, and Junior's already there. I played with a lot of good players, guys who played hurt, Junior's the one guy who truly did leave it all on the field. When you saw him limping to the bus to go to the airport, you knew he had spent everything he had."
High school players good enough to earn scholarships to Big 12 schools all tend to believe they are NFL prospects. Precious few actually are. Tovar brings credibility to any conversation about what it takes, besides the physical gifts, to succeed in the pros. He'll command the attention of recruits. He said his goal in talking about life in the ultimate football league is to get his players to bring a professional attitude to the practice field and classroom every day.
"All of them ask me what it's like in the NFL," Tovar said. "All of them ask me. I tell them it's the hardest, most competitive thing you'll do day in and day out. Just because you sign a contract doesn't guarantee you the next day. It teaches you how to come to practice, how to come to work every day, expecting to be your best because the guy sitting next to you, even though you might be friends, he wants your job, he wants your paycheck, he wants your lifestyle. And it's one of those sports where they draft somebody not to be a teammate of yours, but possibly to replace you.
"You have to keep that competitive edge. As I got older, things caught on, and as my physical skills diminished, the mental aspects had to take over. And I'm just trying to speed that process up for them so the mental and the physical keep up together from beginning to end."
Tovar said he is quite comfortable challenging players daily.
"I'll tell some guys: 'You have a chance but if you want a shot you have to improve x,y, and z,'" Tovar said. "And if a scout comes, that's what I'll tell the scout. I let them know I'll tell the scout that, so it's not a shock to them at the end. I'll tell Mike Rivera or Joe Mortensen: 'Hey, such and such did a better job of taking on blocks today than you did.' It's about doing well and being consistent, day in and day out. That's the true sign of a pro. It's a guy who can come to work and do the same thing day in and day out."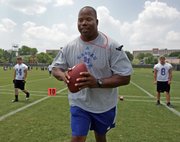 Selling Kansas
Tovar's playing background, his communication skills and presence make him, on paper, a strong prospect as a recruiter for Kansas. Yet, with big-time recruits wanting to play at NFL factories, closing the deal won't be easy.
"If a kid has a chance to go to a quote/unquote BCS school or a top-5 school year in and year out, I'll tell them you can do that, but at the end of the day it's going to come down to skills that you have, what you bring to the table," Tovar said. "There a lot of guys in the NFL from McNeese State. Jerry Rice went to Mississippi Valley State. At the end of the day, it's the work ethic and the tools you were taught when you were there.
"With our staff, and with myself, I tell them you are going to get the best coaching you can get anywhere. There are other retired players who coach, too, but I think if I package that along with the other coaches we have on staff and the ability for a guy to come in here and compete right away ... and the academic factor. You're going to get a good education, and if you want to move to Chicago, if you want to network, there are a lot of people here who aren't necessarily from Kansas at the school. If you want to move back to Texas or wherever you're from, there are a lot of opportunities to network there too."
Tovar can speak with first-hand knowledge about defensive coordinator Bill Young's talents. Young had the same role at Ohio State under John Cooper during Tovar's career. Young recommended Tovar for the job.
While Tovar shares Young's experience and knowledge as an asset, he can stress his own playing career as a different asset.
Hands-on instruction
"The thing I tell, especially linebackers, is I'm not a life-long coach, I'm a guy who played it, and I'm going to teach you the tools to actually know how to play," Tovar said. "I just had a stinger five years ago. Having that understanding what the guys are going through and what situations they're in, I think helps. I think I'm still young at heart, even though hopefully I'm a lot more mature now. I think I can relate to them. I like having fun. I like getting down in the trenches with them."
Teaching players how to improve daily will be a focal point, he said.
"It all boils down to 'How much time is that coach going to spend with you,'" Tovar said. "I tell my guys before the season starts, 'I'm yours.' If they want to come back over and have another two hours of film, hey, I'll stay here until the lights come off."
Tovar's career
1992 - Big Ten defensive player of the year at Ohio State
1993-2000 - NFL linebacker for Cincinnati, San Diego and Carolina
2006 - Assistant coach for Miami Dolphins
Why?
"Because that's my job," he said. "That's my obligation. It's almost like, hey, if a guy wants the information, if he wants to be that good, I'll say it 50 different ways until he gets the way he wants to understand it. It's my job to relay that to him in a way that he understands and he can relate to. I just want them to know they have me 100 percent of the time in the season and the offseason. I'm there right from the beginning to the end. That's why I'm here. I'm here to provide them the service. I'm here to make them better. I'm here because I want them to be good."
Tovar, who is big on Buckeyes helping Buckeyes, said he has noticed that sort unity already at Kansas. He has yet to work a season under Mangino but said he has learned from him already.
"I think Coach Mangino has done a good job of keeping the morale of the team high when sometimes you get those low periods (when) you're going through winter conditioning, and you see another year before the next season starts," he said. "I think he keeps it competitive. We do a lot of things during the offseason.
"He divides the players on the teams. It's not all linebackers together. He divides them into sections of 8 to 10 guys. Our team has to do better than yours. It gives them motivation to go to class, gives them motivation to make sure they make all their workouts. That gives them motivation to keeping that competitive spirit throughout the year.
"One of the things guys miss ... is the competitive spirit. Having that competitive nature year-round, whether it be in the classroom or out there in the workouts, that adds some mental toughness, keeps that edge up throughout the year."
While the Kansas fan base is eager for this pivotal season to get under way, Tovar would like to see the players who work so rigorously for strength and conditioning coach Chris Dawson throughout the hot and steamy summer days remember the philosophy linebacker great Junior Seau brought to work every day: "Practice was game time."
Copyright 2018 The Lawrence Journal-World. All rights reserved. This material may not be published, broadcast, rewritten or redistributed. We strive to uphold our values for every story published.