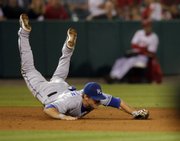 Anaheim, Calif. — John Thomson won in his debut with the Kansas City Royals, outpitching John Lackey in a 5-3 victory over the Los Angeles Angels on Monday night.
Thomson (1-0) allowed three runs - two earned - and six hits over seven innings, and did not walk or strike out anyone in his first regular-season game of 2007. The 33-year-old right-hander spent the previous 21â2 months in the Toronto Blue Jays' minor-league system before he was given his unconditional release last Wednesday.
The Royals are Thomson's fifth team. He also has pitched for Colorado, Texas, Atlanta and the New York Mets. He was reunited with manager Buddy Bell, who had him in his rotation with Colorado during the 2001 and 2002 seasons. The nine-year veteran was a combined 11-13 with a 4.52 ERA in 35 starts for Bell and won a career-high 14 games two years later with the Braves.
Joakim Soria pitched a scoreless eighth inning, and Octavio Dotel got three outs for his seventh save in nine chances, after blowing his previous two opportunities.
Lackey (10-5) allowed five runs - three earned - and seven hits in eight innings, striking out seven and walking one. The right-hander, coming off his worst start of the season, was held back a day in the rotation after getting a cortisone shot last Tuesday because of some soreness in his shoulder.
The Angels narrowed the gap to 5-3 in the fifth with an RBI double by Kendry Morales and Mike Napoli's sacrifice fly. Left fielder Joey Gathright nearly collided with David DeJesus on the Morales drive to the gap, causing DeJesus to peel off at the last instant. Morales continued to third as shortstop Tony Pena's relay throw got past catcher Jason LaRue for an error, causing Bell to shake his head in disgust on the bench once the dust had cleared.
LaRue's RBI single opened the scoring and triggered a four-run second inning for the Royals. Lackey grazed Gathright with a pitch, loading the bases with two out, and DeJesus hit a bases-loaded single that scored Ryan Shealy. Two more runs came in on the play, as LaRue slid into Napoli at the plate and knocked the ball out of his glove. On the play, Napoli took a one-hop throw from right fielder Vladimir Guerrero and tried to make a sweep tag.
Copyright 2018 The Associated Press. All rights reserved. This material may not be published, broadcast, rewritten or redistributed. We strive to uphold our values for every story published.