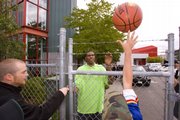 Dallas — At 18 years old and still too antenna-thin to bench press 185 pounds, national player of the year Kevin Durant didn't even have a driver's license until two weeks ago.
In the world of product placement, however, those story lines can be developed.
The possibilities are endless.
Picture a commercial for Schwinn or Sprite featuring Durant riding a bike with a banana seat and handlebar tassels to an NBA game in his Portland or Seattle uniform. He smiles and waves at his teammates as they look at him, puzzled, from their Mercedes.
Durant's baby face, which still gets those little teenage pimples? Show him in a locker room, looking over his shoulder to make sure no teammates are in earshot, then whispering that he cleared his complexion with Neutrogena MicroClear.
Those lean muscles? Put Durant behind a manual lawnmower in tall grass, unable to inch it forward, while his neighbor sips a cool drink, pushing his new power mower from Toro with one hand.
Durant went from basketball player to product brand as soon as he announced on April 10 that he was jumping to the NBA.
In the NBA, players often are marketed more than teams. Those who live up to expectations can afford their own airplanes. According to Forbes magazine, there are four current or former NBA players who break the bank in endorsements: Shaquille O'Neal, Michael Jordan, Kobe Bryant and LeBron James.
The man in charge of maximizing Durant's marketing cachet is Aaron Goodwin, who represented James as a rookie.
"I think Kevin is the brightest star to come into the NBA Draft since LeBron James," Goodwin said. "I think that will be reflected in the options he has."
Experienced agent
Those options don't include whether Durant will score with his left or right hand. Goodwin is talking cash, and he knows his way around the endorsement market. He secured $120 million in deals for James before LeBron ever set foot on an NBA court.
According to industry reports, there was a $90 million contract with Nike, a $20 million deal with Coke, an $8.5 million pact with Upper Deck and a $5 million deal with Bubblicious.
Despite those efforts, James cut Goodwin loose two years ago and formed his own marketing company - LRMR Marketing - with three childhood friends from Akron, Ohio.
"LeBron is LeBron, and Kevin is Kevin," said Goodwin, who also represents NBA players Dwight Howard, Chris Webber and Gary Payton. "They are two different individuals. They are both incredible talents. I see them both as stars in the league for years to come."
Durant may not command LeBron money. Not yet, anyway. But he already has a deal with Upper Deck. And for more than a month, Durant has been weighing proposals from Nike and Adidas for a shoe contract expected to bring him anywhere from $30 million to $50 million.
The Portland Oregonian reported this month that Durant wants to endorse a shoe in the $39-to-$69 range because Durant's friends growing up couldn't afford the $100-to-$125 shoes bearing the names of Jordan and James.
Probably because a lower-priced shoe could drive down the total value of Durant's endorsement contract, Durant, his family and Goodwin have declined to comment on that report until a deal is announced.
"The family has met with Nike and Adidas and is reviewing both proposals," Goodwin said. "We'll go from there."
Portland is widely expected to take Ohio State 7-footer Greg Oden with the first pick in Thursday's NBA Draft, dropping Durant to Seattle with the second pick. Could Durant's endorsement power be affected by playing in a low-exposure market in the Pacific time zone, where games often start at 10 or 11 p.m. on Madison Avenue?
Paul Swangard, managing director of the Warsaw Sports Marketing Center at the University of Oregon, says yes.
"Part of what the company is buying from that endorsement is a level of publicity the athlete can generate," Swangard said. "And one could make the argument that in a small, West Coast market, you're not going to be able to generate the kind of publicity across the country."
No one disputes, however, that Durant was better served financially by the NBA's move to restrict the draft to players 19 or older or one year removed from completing high school. Durant has said he might have jumped to the NBA straight from high school without the rule introduced two years ago.
Proven commodity
But companies that often seek athlete endorsements - for shoes, soft drinks, video games, restaurants, automobiles, among other products - have a better feel for Durant's ability to succeed in the NBA after watching him win all six national player of the year awards while a freshman at Texas. He was the first freshman to do so.
After averaging 25.8 points and 11.1 rebounds, Durant was the only player in Division I to rank in the top 10 in scoring and rebounding (fourth in both).
His feel on the court and ability to score inside and outside at 6-foot-10 (with a wingspan of 7-5) made him a phenomenon in the college game.
Ray Artigue, a former vice president of marketing for the Phoenix Suns, says Durant can thank the NBA's age limit. One year of college allowed Durant to become a household name in sports by getting on numerous magazine covers and becoming a nightly topic - Oden or Durant? - on SportsCenter.
"There's no question the exposure he got from playing at Texas and being able to accomplish what he did elevated his market value by millions of dollars," said Artigue, executive director of the MBA Sports Business Program at the W.P. Carey School of Business at Arizona State.
Several marketing experts said character never has been a bigger issue for companies thinking of spending millions to link their brand with an athlete. That point is being driven home now with Atlanta Falcons quarterback Michael Vick, who is being investigated for animal cruelty in connection with organized dog fighting.
Vick was the fourth-highest-paid athlete in 2006, earning $37.5 million, according to Forbes, behind Tiger Woods ($87 million), race-car driver Michael Schumacher ($60 million) and boxer Oscar De La Hoya ($38 million).
'A good kid'
By all accounts, Durant is a good-natured kid who always puts his team ahead of himself. Even after his last game at Texas, when Durant was getting mobbed for autographs, he continued to serve as the scorekeeper at intramural games for one of Texas' student managers.
"Kevin's a good kid, a humble kid and a family-oriented kid, and I think endorsers pick up on that," Goodwin said. "They also like the fact he's a great teammate."
For Durant, the finances or the thought of starring in commercials are still a little overwhelming. He refers questions on those topics to Goodwin.
If Durant has made a mistake - and the blame really falls on Goodwin - it was attempting to bench-press 185 pounds at the NBA Pre-Draft Camp in Orlando this month. Durant was the only one of 87 players who couldn't lift the weight even once.
Rick Barnes came roaring to Durant's defense.
"If people question Kevin's strength, they're stupid," said Barnes, the Longhorns' coach. "If they are looking for weightlifters to come out of Texas, that's not what we're producing. There's a lot of guys in the NBA who can bench 300 pounds who couldn't play dead in a cowboy movie. Kevin's the best player in the draft, period, at any position."
But again, today's bench-press gaffe is tomorrow's commercial punch line.
All Durant is focused on now is getting to work for his new team. He doesn't care if it's Portland, Seattle or Timbuktu.
He just wants to play.
"I'm excited. I'm ready for a new challenge and looking forward to it," he said. "This has been my dream. I've always wanted to make it to the NBA so that my mom wouldn't have to work anymore."
If Goodwin has anything to say about it, Mom will be living comfortably.
Copyright 2018 The Lawrence Journal-World. All rights reserved. This material may not be published, broadcast, rewritten or redistributed. We strive to uphold our values for every story published.