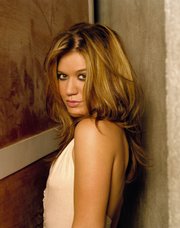 Year of 'December'
Summer 2006: Recording begins on what will become Kelly Clarkson's third album, "My December."
April 13, 2007: "Never Again," the first single from "My December," is released to radio.
May: Rumors surface that Sony BMG head Clive Davis is dissatisfied with the album and wants Clarkson to rework a significant portion. Clarkson will tell Elle magazine (for its July issue) that Davis offered her $10 million to cut five songs.
May 23: The rumors gain some traction when, during the sixth season finale of "American Idol," Davis lauds other former Idols but notably fails to mention Clarkson's new single or album.
June 6: The second "My December" single, "Sober," is released to radio.
June 8: "My December" leaks onto Internet file-sharing sites.
June 11: Clarkson fires her manager, Jeff Kwatinetz, and parts ways with her management company, The Firm.
June 14: Clarkson cancels her "My December" summer tour - her first nationwide arena tour - citing sluggish ticket sales.
Today: "My December" due to be released.
To update a phrase from eternal chick flick "Dirty Dancing," nobody puts Kelly Clarkson in a corner.
The Burleson, Texas, native has weathered a storm of controversy over the release of her third album, "My December," which is due in stores today. The scrutiny only intensified in recent weeks as the CD leaked onto the Internet and Clarkson fired her manager and scrapped her summer tour.
It's been rough, certainly, but Clarkson appears to be resolute about her choices.
"It's not about making people upset," she said during a recent taping of "Nissan Live Sets on Yahoo! Music." "It's about not settling."
Music industry veteran David Kahne, who produced "My December," said the original "American Idol" had no intention of softpedaling her new material.
"She was completely clear about it," Kahne said, adding that Clarkson brought about 50 songs to their initial sessions. "She knew what it was supposed to be, and (since) she's such an emotional person, she doesn't know how to hide it."
Clarkson echoed that assessment in the July issue of Elle magazine.
"I've sold more than 15 million records worldwide, and still nobody listens to what I have to say : because I'm 25 and a woman," she told Elle. "My resistance upsets a lot of people because we could make a lot of money. And I'm not hatin' on money. : I'm just not comfortable doing things that don't feel like me."
So what impact will all this soul-baring have on Clarkson's career?
Only time will tell, but if you ask her die-hard fans, the answer could be little to none. Internet message boards are littered with fan reaction to the leaked versions of "My December," and it's overwhelmingly positive. Radio seems to be taking a wait-and-see approach (as of June 16, the album's lead single, "Never Again" sat at No. 11 on Billboard's Hot 100 Airplay chart).
The media, which have eagerly followed every twist of the pre-release saga, initially framed the story as a heroic David vs. Goliath struggle. But more recently, some of the coverage devolved into jokes about yet another train-wreck starlet.
Nevertheless, "I think everyone really wants Kelly Clarkson to succeed," said Billboard analyst Keith Caulfield. "There's just so much good will. Yeah, these are kind of large bumps but : it's not like this spells disaster for her."
Blender magazine editor-in-chief Craig Marks, who interviewed Clarkson for the magazine's August cover story, said what's most surprising about the pre-release controversy is that it became known to the public.
"This is typically the kind of thing that record execs do a pretty good job of tamping down," Marks said.
Regardless, Clarkson is about to find out just what kind of gamble she's made. Marks said Clarkson acknowledged that "a letdown was inevitable" following the astronomical success of her previous album, 2004's "Breakaway."
"I think she knew she'd made a record (this time) that was a little bit risky," Marks said. "She wanted to make it, she felt she had to make it and she did."
It was that sense of "carpe diem" that most struck producer Kahne when he began work on "My December."
"She said, 'I have one chance to do this - if I don't do it now, I'm never going to get another chance,'" Kahne said. "I think (pressure) just builds up on (a person). It's a tremendous experience to go through, growing and having that much success that fast."
Copyright 2018 The Lawrence Journal-World. All rights reserved. This material may not be published, broadcast, rewritten or redistributed. We strive to uphold our values for every story published.