About a week after Chris Dawson bought his first bike since childhood, he returned to Sunflower Outdoor and Bike as he continued to tweak his ride.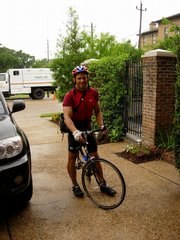 As he looked over a different style of saddle, he mentioned he was headed out for an 80-mile ride.
"They looked at me kind of funny," Dawson recalled. "I'd only been riding about a week. But, you know, what I do is far from the fitness industry. I'm in the performance industry. I work with 18-, 19-year-olds. The things they do can drop your jaw."
In other words, it's Dawson's job to get folks to perform incredible athletic feats, not look good in a suit.
In that context, then, it's not that out of the realm of possibility that Dawson, Kansas University's director of strength and conditioning, might not think twice about cranking out an 80-mile ride after a couple of decades off the bike.
Or that the 80-miler was to serve as training for a truly epic trip - a solo bike trip from Lawrence to Dawson's hometown of Houston (yes, the one in Texas). In a week.
Dawson knocked out that training ride last spring, and though the ultimate junket for which it was a tuneup ended just after it began, Dawson was undaunted.
He tried again this spring - after a whopping 14 months of training - and left Lawrence on May 18. On May 24, 805 miles later, he rolled up in Houston.
"Most people think I'm nuts," Dawson said with a laugh. "They're surprised."
Not that Dawson, 35, goes around bragging about it. In fact, few of Kansas University's student-athletes have heard about his incredible journey.
"I don't walk around telling people," Dawson said, "but it's not a big secret, no."
Drat, a flat
Dawson's two-wheeled travels started about a year and a half ago.
A former linebacker at Oklahoma University, longtime runner and lifelong fitness freak, Dawson started exploring alternative athletic avenues.
Thinking he might give triathlons a try, he started swimming for the first time in 20 years. He also climbed on a bike and found he didn't want to climb off.
"I liked it," Dawson recalled. "It's a different perspective. I started to like being in the saddle."
That was early in 2006, about the time he hatched his plan to ride to Houston.
He had several 100-mile days behind him when he set out last May, but didn't make it far before he suffered a flat rear tire.
It turned out to be the first of many.
"I couldn't tell you how many times I changed the tire," Dawson said.
Each stop to repair the recurring flats put Dawson further and further behind schedule.
Finally, about 300 miles into the trip, Dawson stopped to change another flat and found the tire was so stretched from the constant mounting and dismounting that it wouldn't stay on the rim.
Though Dawson had an extra tube, he had just the one tire.
He walked into a convenience store in tiny Porum, Okla., and gave up.
"It wasn't easy," Dawson said. "But at some point, you have to stop banging your head against the wall."
'I had to learn how to ride'
Dawson's abbreviated first attempt didn't slake his long-ride thirst.
"I wasn't able to do it. I don't know if it's my competitiveness or not, but most coaches, most athletes, have a competitive nature," Dawson said. "But I wanted to do it since I wasn't able to the first time."
Dawson stepped up his training.
He put in more 100-mile days prior to the first attempt.
This time, he did shorter rides - in the 60- to 80-mile range - but increased the intensity.
"Last year, if it was raining, I might not ride," Dawson said. "This year, if it was a training day, come hell or high water, I was going to ride."
Though Dawson knew plenty about fitness and performance in general, he realized he had a lot to learn about cycling.
"I do stay in shape. I think my cross training helped. I do a lot of interval work - running, as well as on the bike," he said. "But I had to learn how to ride, how to refuel properly and how to recover. : This year, I felt a lot better."
There was an additional oddity to Dawson's training: He often rode loaded. With gear, that is.
He wanted to travel light, so he planned to wear the same hip pack he wore last year that carried all his gear: shorts, a shirt, a couple of energy bars, cell phone, wallet and a pair of flip-flops.
During his 2006 attempt, Dawson developed knee pain he attributed to the weight the hip pack added to every pedal revolution. This year, he used the same pack but attached the shoulder strap to distribute the load.
Dawson wore that setup during some of his training rides to acclimate himself. He also rode with a loaded backpack and with a weight vest.
"The hardest training ride I took wasn't the longest. It was a 31-mile ride with a 25-pound pack on. It was a beast," Dawson said with a smile. "But I thought I was much more prepared."
Hello, wind
So on May 18, Dawson saddled up and headed south.
He picked secondary roads to avoid traffic. For instance, he left town on U.S. Highway 59.
He attempted to hit the road every morning at first light and be done by 2 or 3 in the afternoon, when he'd locate a motel or hotel - "Basically, just a bed, a shower and ice," he said - rinse out his riding gear and crash. Ride, rinse, repeat.
Though he rode unsupported, he had a constant companion: a headwind.
"People don't understand how much wind makes it easy or difficult for you to ride a bike," Dawson said. "I didn't have one day the wind was coming out of the north."
He rolled through Porum, Okla., and made a point to stop at the same convenience store that marked the end of his last attempt at Houston, then headed to the southeast corner of the state and the first significant challenge of the ride.
"Southeastern Oklahoma has big hills. Maybe you'd call 'em small mountains, similar to Ozarks terrain," Dawson said. "I used to go fishing there a lot. That was my toughest day, but also one of my funnest. For every hill there's a downhill."
He crossed into Texas, went through Paris, then Athens, then Palestine.
On the leg from Palestine to Madisonville, Dawson suffered his only mechanical setback. Standing to climb a hill, he heard the unmistakable twang of a broken spoke.
Dawson took one look at unbroken desolation around him and used his lifeline, calling his sister and asking her to hop on the Internet and locate the nearest bike shop.
"By the grace of God, there was a bike store 10 miles away," Dawson recalled. "I called my sister and asked her to get on the computer and find a bike store. She said, 'Oh, yeah, Dogwood Bike Store.' I said, 'I'm in the middle of nowhere. Don't play me.' She said, 'No, I'm not.' I unhooked my brakes and they fixed my wheel for me."
End of the road
The end of the road came on May 24.
Dawson had calculated a trip of closer to 700 miles, but it ended up at 805.
His shortest day was 109 miles, his longest 120.
One day, it rained the entire time.
"For the most part, the roads weren't too bad," he said. "There was a nine-mile stretch north of Athens, Texas, that hands-down was the worst stretch. There's the white line, then there's a big dropoff."
And Houston's traffic surprised him.
"There were so many exits and on-ramps," Dawson said, "it felt like I was playing Frogger every so often."
In retrospect, he said, he found he often lost himself in the ride.
"It all ebbs and flows. You get in a groove," Dawson said. "There might be a three-hour span where I'd get in a groove and look down and (the computer) says 19.8 (mph). And then you might go an hour and it feels like you're being bludgeoned in the head with a baseball bat."
Not long after he got off the bike, a relative asked if he'd be riding back the same way.
Dawson laughed.
"I told 'em I wasn't sitting on anything smaller than a couch for a long time."
Copyright 2018 The Lawrence Journal-World. All rights reserved. This material may not be published, broadcast, rewritten or redistributed. We strive to uphold our values for every story published.