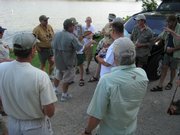 A line of trucks, cars and SUVs filled with fishing equipment and accessories formed Wednesday evening at the end of a narrow gravel road along the west bank of Lone Star Lake.
Parked bumper-to-bumper, all of the vehicles belonged to members of the Free State Fly Fishers club, and when an air horn blew at 6:30, the club, which is in its second year of existence, started its first tournament.
Eighteen of the club's 63 members took part in the competition, and before they took to the water, they gathered around club president Jeff Frye to pair up in two-man teams, receive their scoring cards and hear the parameters of the one-fly tournament.
Each fisherman was allowed to use the fly of his choice, but only that fly, and if he lost it he would be done for the evening.
"If a fish breaks it off or you get hung up in a brush pile and can't retrieve it, you're done fishing," Frye said. "So one of the elements of the scoring system is that there's a 15-point bonus for finishing with your fly."
The teams had two hours to catch and release as many fish as possible; different species of fish were worth different amounts of points.
Easy hooks like bluegill were worth one point, but less-attainable fish such as wiper were worth 20. A walleye or sauger would tally 40 points. And if someone were to bring in the "bluegill slam" - a common bluegill, green sunfish and redear - 20 bonus points would be awarded.
The bounty for finishing the evening with the most points: a kitty of flies to be divvied up among the top three teams.
'All about fun'
As club members gathered their poles and prepared to man their non-motorized boats or floating devices (another parameter of the competition), or pick out a shady spot on the shore, competition seemed to be the last thing on their minds.
"These guys are all about fun," Kurt Moomau said of the club's members. "We're just here to enjoy each other's company."
As the "fishing toys," as one member called the boats, rods and lures, and the fishermen carrying them dispersed about the lake when the starting horn sounded, different strategies and techniques were applied. Some members took to the lake in one-man pontoon boats or tubes built for fishing. Others stayed ashore in a previously scouted spot.
"You can fish from shore or from pontoon boats and have a great time," Greg McDonald said.
Frye said the club, which is part of the Federation of Fly Fishers, started holding its monthly meetings at Lone Star when the weather became favorable in the spring. In the winter, club members still hold meetings, but instead of fishing they just tie flies in preparation for the months ahead.
The Douglas County lake is an ideal fishing spot, Frye said.
"Lone Star's a tremendous fishery. It doesn't get a lot of heavy fishing pressure for as good a fishery as it is," Frye said, and jokingly called the club's meeting spot the "secret location of the rebel base."
As Chris Caldwell fished under a tree where he'd caught more than a dozen fish his last time out at Lone Star, he said he enjoyed the club's secluded spot.
"Everybody who comes out here with any frequency really likes it," he said.
Back in the fold
Caldwell had gone without fly fishing for a while before he joined the club last year.
"The club has been very beneficial for a lot of us who kind of picked it up again," he said as he snagged a bluegill and joked that the club keeps members off the streets.
Club members shared a genuine sense of camaraderie and didn't seem to care too much about how their scorecards looked.
"I don't care, man," Moomau said of winning. "I'm just happy to be out here in the sunshine. I'm perfectly content.
"At some point when you're older and you have a little more appreciation and you're not fighting for a meal - you've got your retirement or whatever planned - you're out here for other things, and it doesn't matter if you catch a fish. You come for the surroundings and the company and occasionally you catch a fish."
As he cast his line along the edge of the lake's dam, Moomau said he has only been fly fishing for two years and truly enjoys it.
"I enjoy just the casting of it, actually. It's kind of an art in itself," he said.
And the winner is :
As the tournament wrapped up, Frye, who sported the club's growingly popular official T-shirt that has been ordered via its Web site (freestateflyfishers.org) by people all over the country, admitted he was one of the first to lose his fly.
When the final horn blew, club members meandered back to their meeting place. No one seemed too concerned with point totals. They were too busy sharing laughs, stories, fishing tips and good spots for future outings.
Eventually everyone reported their numbers to Frye, who totaled the cards and determined the team of Ronn Johnson and Mike Zimmerman was victorious. The team scored 75 points and got a significant boost since Johnson was the only fly fisher to score the bluegill slam.
Johnson said that wasn't particularly his strategy. He went after bass, which were worth three points apiece.
"That's probably what helped me so much," he said of the slam and bass. "I caught five nice bass-one almost four pounds."
Zimmerman said strategy didn't play much of a role as he fished in his float tube.
"I just tried to keep from blowing into the dam," he said with a laugh.
Johnson said winning was secondary to having a good time.
"It was a lot of fun," Johnson said. "Just getting together with these guys is a lot of fun anyway. I wasn't even thinking about winning the tournament. It was just coming out here and having a great time with these guys."
That sentiment prevailed Wednesday night among the Free State Fly Fishers at Lone Star Lake. Before they piled back into their cars and headed home, they took time to soak in the summer air, eat a few bratwursts and reflect on a night of fishing and fun.
Copyright 2018 The Lawrence Journal-World. All rights reserved. This material may not be published, broadcast, rewritten or redistributed. We strive to uphold our values for every story published.